Latin America Looks to Swiss for Global Solutions
Economic antithesis in South America leads to similar hotelier ambition with GlobRes.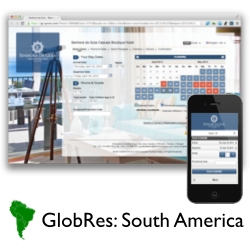 São Paulo, Brazil, April 20, 2013 --(
PR.com
)-- Higher than expected demand from the four- and five- star market in Latin America for premium e-distribution services show the underlying desire to increase intercontinental reservations.
Despite average ADR rises of 8% in Brazil and an equal sized contraction in Colombia, GlobRes's industry leading software, such as the award winning Booking Engine, and the regional expertise of their multilingual support team are combining to produce unprecedented results in these varied conditions.
After recently returning from the "Vitrina Turistica Anata" trade fair in Bogota, the GlobRes contingent reported a regional shift towards technologies designed to increase not only RevPAR but to encourage a cross-border influx of customers through the four main GDS providers. There is also a noticeable interest to investing in more advanced and seamlessly integrated booking engines to drive revenue growth.
On the back of such a successful expedition and with hotels looking to add a truly international dimension to their sales channels, GlobRes is attending the World Travel Market in São Paulo from 23rd April, 2013 in order to further develop a position as a leading distribution partner to hotels in South America.
Leading the delegation, Sales Director Daniel Sainz said, "It seems as though hotels in Latin America are looking at the global distribution options available to them and developing keen sense of both how to create value in the distribution supply chain and which companies can add the most value by understanding the nuances of the South American market.
"GlobRes has increased its focus on South America over recent years, and is proud to support hotels right across the continent."
From Colombia to Peru through Mexico and Costa Rica, GlobRes has experience in working with hotels in Latin America which allows delivery of the highest quality service to all types of properties across the continent. From boutique hotels looking to develop their international sales channels to hotel chains needing specialist distribution solutions. Increasingly, GlobRes is the partner of choice for the region's top hotels.
Director of Marketing, Chris Ulph summed up recent activity, "We are seeing strong growth across the region in a relatively young market. Hotels are increasingly seeking reliable distribution partners; they are seeking companies who offer more than just turnkey solutions. Engagement is key for GlobRes as hotels are looking for long-term relationships to foster trust and provide added value to achieve growth targets."
To contact the GlobRes sales department to arrange a meeting in Brazil or if you have a general enquiry, please send an email to sales@globres.com.
Notes to editors
About GlobRes
GlobRes is a leading supplier of seamlessly integrated technology solutions to the global hospitality industry. Providing leading reservation, distribution and channel management software that is used by more than 12,000 hoteliers worldwide whilst producing over $12 billion in revenue each year, GlobRes offers real options for hotels looking to capitalise on their potential.
Contact
Global Reservation Agent AG
Chris Ulph
+41413110100
www.globres.com

Contact