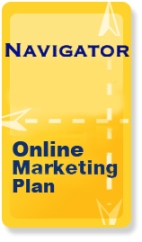 Broadview Heights, OH, April 22, 2013 --(
PR.com
)-- Online Marketing Coach today introduced the Navigator Online Marketing Plan for small businesses that want a custom audit and not just an automated report.
"Small businesses often find themselves at a crossroads. They've tried some online marketing strategies, but they've never been satisfied with the results," Online Marketing Coach Mike Murray says. "The Navigator Online Marketing Plan provides the perspective they need to get their bearings and make the next move."
The Internet is jam-packed with free reports that companies crank out in seconds, but small businesses need personalized guidance, Murray says. "With the assessment, we help a small business owner size up his company's strengths and weaknesses and recommend the best ways to generate more leads and sales."
Get the details on the plan from an
online marketing expert
: http://onlinemarketingcoach.com/my-plan/
With the one-time plan, small businesses get:
- Target market analysis
- Competitor analysis
- Keyword research
- Baseline keyword ranking report
- Assessment of web site design (calls to action and conversion potential)
- Technical SEO audit
- Analysis of web site visitor trends
- Evaluation of existing online marketing efforts
- Specific recommendations based on the company's web site, budget, goals and team
The Navigator Online Marketing Plan allows a small business executive to understand:
- What he (or his team) can do
- When training may be needed
- When it makes sense to bring on a consultant
Small businesses sometimes don't do anything because they fear they won't get a good ROI. When they consider getting some direction, small business owners get sticker shock when they find out how much agencies charge, Murray says.
Murray has shaped online marketing strategies for hundreds of businesses since 1997, including small businesses in diverse industries and large companies like Little Tikes, Bissell, Cleveland Clinic, FedEx Custom Critical, KeyBank and Eaton Corp.
"It doesn't do any good to just get a quick report with bunch of numbers and grades like A or F and no guidance," Murray says. "Recommendations should be based on what a small business really needs to be more competitive. Don't just speculate on what might work. Create a plan that outlines the most practical opportunities."
About Online Marketing Coach
www.onlinemarketingcoach.com
With a focus on small businesses, Online Marketing Coach offers an array of Internet marketing services, including search engine optimization (SEO), paid search management (also known as pay-per-click or PPC), web site design, e-mail marketing, social media and more. Mike Murray, president and founder, has over 25 years of print and online marketing experience.