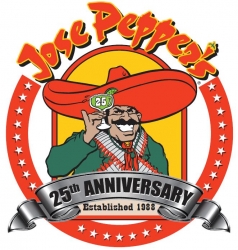 Kansas City, KS, April 23, 2013 --(
PR.com
)-- Jose Pepper's is celebrating its 25th year of serving up Kansas City's favorite Tex-Mex food. In 1988, Jose Pepper's began with the mission to provide the highest quality, freshest food and exceptional service. With these concepts as a cornerstone, Jose Pepper's continues to thrive and expand. The journey started with a single restaurant in Overland Park and persists 25 years later with 12 locations in Kansas and Missouri, including stores in Topeka and Wichita. 2013 also marks the 20th anniversary of Jose Peppers' sister store, Cactus Grill.
Over the years, Jose Pepper's has become a household name in the Kansas City area and beyond. With a growing catering and carryout business as well as product availability in local grocery stores, they've made it convenient to enjoy fresh Tex-Mex food on any occasion. Jose Pepper's offers menu items that have become fan favorites and continues to create signature dishes. In 2010, they developed their own brand of gold tequila and they recently crafted a silver tequila to commemorate their 25th anniversary. In addition to the highest quality of food, people delight in visiting Jose Pepper's because of the extraordinary service that is a standard and staple of the company.
"It's all about the guest. We started this company and continue to run this company on the concept of good food and good service," says Ed Gieselman, founder and president of Jose Pepper's.
Guests at Jose Pepper's enjoy friendly and efficient service in a casual and cheerful atmosphere. The company prides itself on training staff to accommodate the needs of any guest and exceed all service expectations. The Jose Pepper's culture is driven by people who believe in what they're doing and want to continue to raise the bar. The loyalty of the community has not only attested to the achievement of food and service benchmarks, but it has served as a motivational tool, urging the company to surpass expectations. Jose Pepper's is honoring over two decades of success with eager anticipation of many more on the horizon.
Says Gieselman, "Our guests have been great to us. We can't thank them enough for the local support they've given us over the past 25 years."
Jose Pepper's will kick off its official 25th Anniversary Celebration with activities beginning on May 4th, 2013 and continuing throughout the year.
For More Information:
Brent Sullivan
Marketing Director
Jose Pepper's Restaurants, LLC
bsullivan@josepeppers.com