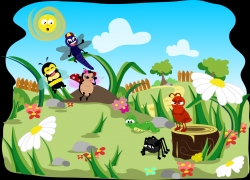 St. Albans, NY, April 24, 2013 --(
PR.com
)-- Author P.B. Jeffrey seeks to raise funds to print her newest children's book, "The Flyers and The Crawlers," using funding platform Kickstarter as a launch pad. The anti-bullying book—which tells the story of a group of flying insects that bully crawling bugs—teaches children three essential principles: never let someone make you feel like they are better than you, everyone deserves respect, and define yourself.
"Bullies have to learn how to interact with those who are different than them," says Jeffrey, a mother of two who runs a home-based daycare. "But it is just as important for bullied children to realize that they have power, and that they don't have to be victims."
Even though this idea may strike a dissonant chord with people who believe that society should focus on changing the mindset of the bully, Jeffrey believes that parents will see the book's message as beneficial. "'The Flyers and The Crawlers' is an essential tool for teaching bullies why everyone deserves respect, and for convincing bullied children why they should always demand it."
Jeffrey has thirty days to raise $4000 to fund the production and distribution of the book. If the full amount is not raised by May 24th, it may be years before the anti-bullying book is made available for children. Donations of just $1 will help get the book into the hands of the children who need it most.
"Early intervention is the key," says Jeffrey. "Getting this book out to young children will help stop bullying before it starts."
To contact P.B. Jeffrey please email marketing@belizariojeffrey.com, or contact her via Facebook.
P.B. Jeffrey studied Communications (B.A.), and English at Hofstra University. The mother of two currently runs a home-based daycare where she delights children with original stories, poems, and impromptu plays.