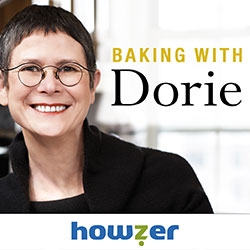 Houston, TX, April 25, 2013 --(
PR.com
)-- Dorie Greenspan ― America's most beloved baker and "a culinary guru," as called by the New York Times ― and her exclusive selection of over 25 delightfully delicious dessert recipes ― combined in an easy-to-follow hands-on baking video course – are now available in the Apple App Store. The new app is featured in the "New and Noteworthy" category on the Store's main page.
Named the Best in the World culinary app by Gourmand Magazine, "Baking with Dorie!" has already won hearts of numerous dessert cooking fans all over the world. Upgraded to include more than 130 HD videos, with more to come, this app delivers a totally immersive, interactive, and fun experience of cooking one-on-one with America's top baking professional, allowing cooks of all levels to advance their baking skills. The application is available now for iPad as a
free download
at the App Store with access to the "All-in-One Holiday Bundt Cake" recipe. The full recipe bundle can be purchased for as low as $9.99. You can also choose to download individual recipes of your choice for just $0.99.
"Baking with Dorie!" combines the most advanced, user-friendly technology with the highest production quality. With each recipe organized as a complete baking lesson covering a variety of techniques and occasions ― from easy to hard, from breakfast through celebrations ― the application helps home bakers be successful in their cooking endeavors and have a fabulous sense of accomplishment.
Showcasing Dorie Greenspan's inimitable cooking style, signature teaching technique and personality, "Baking with Dorie!" provides a range of customizable features to give cooks flexibility in using the app to its full potential:
• Professional Video ― Big-screen quality is brought to the iPad by the award-winning TV producer and director Geoffrey Drummond. Cooks can choose to watch any ― or all ― of each recipe's many instructional videos featuring Dorie demonstrating her professional-grade cooking techniques.
• Four-Apps-in-One ― Cooks choose the "view" that best fits their style and expertise:
1. Cookbook ― Visually similar to a traditional cookbook – but with all the multimedia enhancements.
2. StepView ― A guided walk through the recipe with video instruction each step of the way.
3. SpinView ― A video carousel allows cooks to set their own pace and skip steps as they become more comfortable.
4. ChartView ― A unique opportunity to view the entire cooking lesson, mapped out and illustrated from start to finish – helps to quickly revisit the steps of a favorite recipe.
• Social Networking ― Users can connect in an engaging, supportive and resource-rich community.
The current recipe selection features Dorie's all-time favorites starting from the basics: Breakfast Sweets, Cookies, Cakes, and Pies and Tarts. Stay tuned for more recipes to come.
About Howzer
Howzer creates new-generation apps with an immersive, highly visual interactive user experience that blends entertainment and education. Combining our rich software engineering background with e-learning fundamentals, Howzer delivers flexible solutions with customizable instruments enhanced with eye-catching video and art, for a likable and efficient learning experience.
www.howzer.com