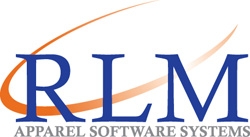 Lyndhurst, NJ, May 06, 2013 --(
PR.com
)-- RLM Apparel Software Systems Inc. (
http://www.ronlynn.com
), solutions provider of choice to many leading and emerging fashion brands and retailers, reports that accelerating demand for its cloud-based fashion enterprise and other software solutions has resulted in another year of strong growth. In addition to the large number of new orders received from prominent menswear, womenswear, footwear, accessories, and home fashion labels during the past year, the privately-held company has also upgraded a number of its longtime clients to the latest version of its web-based FashionManager™ solution.
Among the most notable new RLM clients choosing FashionManager in 2012 were luxury shoes and accessories designer Charlotte Olympia, prolific menswear designer John Varvatos, THE ROW luxury apparel and accessories brand by Ashley Olsen and Mary-Kate Olsen, and menswear design veteran Todd Snyder. These and other companies deployed FashionManager on the cloud platform, which is hosted and maintained directly by RLM.
Demand for RLM's comprehensive software solutions continues strong into 2013 with a number of new implementations underway at 3x1 Denim, Elizabeth & James, and fashion leader Jason Wu, which will phase-in the full FashionManager PLM, ERP, and Financial Management suite this year.
"We thank our customers for making possible such consistent growth over this past year and our entire 35-year history," declared Founder and CEO Ron Lynn. "The fast pace and constant change of our industry drives us to continuously innovate and provide new and better solutions for the many companies that have placed their trust in us. We appreciate the opportunity to serve each client and the industry that we love."
According to RLM Vice President and Partner Rick Lynn, "As fashion companies struggle to streamline processes and maintain margins, many have come to recognize the measurable benefits of managing their business on a single software platform. We have always held that this is the only way to achieve the visibility and control needed to stay on top of the entire concept-to-consumer fashion lifecycle. The continued strong demand for our solutions validates our commitment to providing fully integrated solutions that are focused on fashion requirements."
"We are pleased that so many companies have embraced the cloud-based FashionManager deployment," added RLM Vice President and Partner Andy Lynn. "While fashion companies like the promises of simplicity and lower costs of ownership, many initially express reservations about cloud technology. When they learn that we have been running hosted solutions for more than 12 years, they quickly realize that we can provide all the savings and mobility of the cloud without compromising any capabilities or system performance. That's the RLM difference."
About RLM Apparel Software Systems
RLM Apparel Software is a leading provider of modular, end-to-end business software solutions designed specifically to address the needs of global fashion retailers, brands, and manufacturers. Over its 35-year history, RLM has enabled many of the largest and most innovative apparel, footwear, accessories and related companies to reach their full potential by accelerating performance, increasing efficiency, reducing costs, and streamlining business processes across the entire concept-to-consumer product lifecycle.
RLM's category-spanning enterprise software solutions comprise capabilities typically found separately in financial management (FMS), enterprise resource planning (ERP), product lifecycle management (PLM), supply chain management (SCM), warehouse management (WMS), and B2B/B2C e-commerce systems. RLM solutions are available in either a traditional on-premise deployment or as a cloud-based subscription model.
RLM customers include Alexander Wang, Blowfish Malibu, Donna Karan, Halston, John Varvatos, Jordache Enterprises, Magaschoni, Michael Kors, The Row, Tory Burch, US Polo Association, and other leading apparel, footwear, accessories, and home fashion companies. For more information, visit http://www.ronlynn.com.
FashionManager is a trademark of RLM Apparel Software Inc.