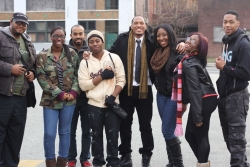 Philadelphia, PA, May 05, 2013 --(
PR.com
)-- Philadelphia Filmmakers, Musicians, and Youth Service Providers collaborate to bring uplifting web series to the urban masses. In response to the urgent need to better connect with youth ages 16 to 25 and offer alternatives to engaging with them "CASES" the web series has been created and produced by the DK Interprises, Inc. The production team is poised to premiere its first episode in May, 2013. Go to: http://casestheseries.com where you can view the Trailer and Teaser. To make the project more appealing, the team has offered a chance to win $100.00 to a lucky site visitor, yet another innovative approach to connecting with our youth.
CASES is a film series developed specifically for the web. Season one will air thirteen episodes of twelve to fifteen minutes in duration, each illuminating the characters and events surrounding their lives. The production will be "true to life" and gritty in its portrayal of the views and realities of the characters. It is written in layers to provide multiple approaches to engaging the target audience and to provide insights into the more secretive aspects of the characters' lives.
"We've spent enough time learning to understand the mindset and challenges of the Youth we have served and the response by those who have seen CASES so far suggest we are on the right track," said Dedoceo Habi, Filmmaker and CEO of DK Interprises, Inc., "Our approach is to first connect with youth where they are and hook them by making the characters relevant. Once that happens, we can use CASES to stimulate their awareness in other areas. That is what will make the difference."
"As a Case Manager at one of Philadelphia's YouthBuild Programs, I have been exposed to the harsh realities many of our Youth face," said Kimberly Habi, community servant and COO of DK Interprises, Inc., "I've seen how youth respond to media and that is what compelled me to co-write and co-produce the series. We have to engage them from many different avenues."
About DK Interprises, Inc.
DK Interprises, Inc. is based in Philadelphia, PA and produces multimedia products, specializing in film products and websites. It serves as a single-stop entity for its clients, having the capabilities to write, produce, direct, edit, and deliver unique products for its clientele. The company is lead by Deodoceo Habi, having recently relocated from Oakland, California, and Kimberly Habi, a native of Philadelphia, PA. the company's services are available on the web at http://dkinterprises.com.