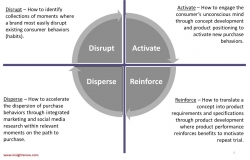 Corvallis, OR, May 15, 2013 --(
PR.com
)-- "New product success requires an understanding of the power of the moment. Moments are the instances in the lives of consumers that impact paths to purchase," said Dave Lundahl, CEO of InsightsNow, Monday at the 18th Annual Center for Retail Leadership's Executive Forum at Portland State University. Lundahl went on to explain the importance of understanding consumer moments and
the process for generating sustainable new product success.
Take for instance the remarkable success of Chobani. Chobani grew to $800M in sales in its first four years – recognized as the #2 IRI New Product Pacesetter in 2011. Chobani was among the top 100 fastest growing companies in the US. In an article published in HBR (March 2013), Chobani was cited as 13 companies among these top 100 who created a new product category. In fact, these companies were responsible for 60% or all the revenue growth and 75% of the market capitalization among these top 100 companies. Even more remarkable is a recent citation that Chobani achieved its pacesetting success with only $120K in product promotion spending over its first four years in business.
Chobani success is rooted in the power of the moment. If you study this case through the lens of the moment, you will discover four key ingredients for repeatable success:
· Disrupt existing behavior within moments on paths to purchase: Chobani Greek Yogurt established a new category in the US marketplace by disrupting behaviors. They targeted "busy energizing" moments – occasions when consumers are seeking "food energy" that quickly fills you up and lasts until your next meal.
· Activate trial behavior by promising to fulfill unmet desires within these moments: This promise activated trial through a positioning that promised fulfillment within these moments.
· Reinforce behaviors in consumption moments by delivering an experience that fulfills the brand promise: The product experience reinforced the association between the unique thick protein texture and visual appearance that became associated with the brand promise to fulfill busy energizing moments.
· Disperse new trial behavior through word of mouth moments via social networking: Word of mouth about this product quickly spread at a time when social networking was exploding in popularity further disrupting and activating more trials.
Setting up your process for new products and marketing in this was will lead to establishing new habitual preferences for repeat use of your product. Additionally, it will lead to the natural dispersing of the promise of your brand via social networks.
About InsightsNow
InsightsNow, Inc. are consumer research experts passionate about generating deep insights. Their award winning research zeros in on the motivators of consumer decision making "Moments" which is ultimately more predictive of consumer behavior. They create faster innovation learning cycles for clients with real-time reporting and "in-field" profiling of response behavior. They help clients create products that add value to people's lives with their proprietary analytics and behavioral approaches to innovation.
About the Center for Retail Leadership
The Center for Retail Leadership began in 1994 as a partnership between Portland State University's School of Business Administration and the food industry. Retail and packaged goods companies provided seed funding in order to establish a world-class resource for recruiting and developing top management talent specific to the food industry.