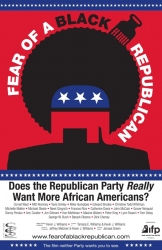 Princeton, NJ, May 14, 2013 --(
PR.com
)-- Shamrock Stine Productions, LLC has announced that its first documentary feature film, FEAR OF A BLACK REPUBLICAN, will have its "New York City Premiere" on Wednesday, May 15th at 6:00 pm at the Women's National Republican Club, 3 West 51st Street, New York, NY. This special Screening will be followed by a Q&A session with the film's Director, Kevin J. Williams and Producer, Tamara E. Williams. The event is open to the public and tickets for non-Women's National Republican Club (WNRC) members are $25.00. Light fare will be served. For more event information, please call (212).582.5454. The movie trailers for the non-partisan FEAR OF A BLACK REPUBLICAN can be viewed on the film's website www.fearofablackrepublican.com and on YouTube.
Director Kevin J. Williams said, "Our experiences as Republicans in an urban area were the impetus and inspiration for making our film. Tamara and I cannot be happier about finally premiering in New York City and we are honored to be screening at the Women's National Republican Club and to partner with such a great and historic organization. We expect to draw a cross-section of people from both sides of the aisle and with the results of the Presidential Election still fresh, this should be a very interesting and fun evening for the Audience." Producer Tamara E. Williams stated, "As our film has such strong female story-threads with the segment on Catherine Davis' Congressional run and former Governor Christine Todd Whitman's scenes in our film, we could think of no more appropriate place to screen than at the WRNC which was founded by suffragists in 1921."
Filmed and edited over a six year period,
FEAR OF A BLACK REPUBLICAN
examines why there are so few Black Republicans (and by extension, other Minorities) and how this affects the U.S. political system today. Today, barely 10% of African Americans consider themselves to be Republican and Urban areas are no longer considered competitive parts of America's electoral map. Beginning in his hometown of Trenton, NJ, filmmaker Kevin Williams speaks with Democrats and Republicans while exploring the GOP's efforts in urban areas versus the suburbs, the Democratic Party's success in retaining the African-American vote and Black Republicans' experiences with Democrats and their own Party. The result is a moving film revealing a world that audiences won't likely forget.
During this journey, Williams speaks with scholars such as Professor Cornel West; newsmakers such as Michael Steele, former Chairman of the Republican National Committee; Presidential candidates Mitt Romney, Mike Huckabee and John McCain; former U.S. Conference of Mayors Chairman Douglas Palmer and former Governor Christine Todd Whitman; Commentators Tavis Smiley and Michelle Malkin; political leaders, including past RNC Chairman Ken Mehlman and Congressman Peter King; Conservative thinkers such as Newt Gingrich, Grover Norquist and Ann Coulter; and the first and last Black Republican Senator popularly elected since Reconstruction, former Senator Edward Brooke of Massachusetts, amongst others. Senator and President-Elect Barack Obama, President George W. Bush and Vice-President Dick Cheney also appear in the film, along with very rarely seen archival footage of Reverend Martin Luther King, Jr., Vice-President Richard M. Nixon and baseball pioneer Jackie Robinson. The film also examines the History of the Republican Party since its founding.
Williams states, "Before I started shooting, I was just a voter wondering why things weren't getting better after each election. Picking up my camera changed everything for me. My intention with this film is to find out if our political system supports the decaying of Urban America, what that means and what if anything can be done about it. Journeying across the country and spending time with an important, but misunderstood segment of our society - Black Republicans, revealed a reality and an experience few will ever see. As race, politics, human nature and history all clash in this film, I know that as the Director, I am only opening the book on this subject matter and its implications for America." To learn more about the film or view the film's trailer, please go to www.fearofablackrepublican.com.
Main Credits:
Written, Directed and Edited by Kevin J. Williams
Produced by Tamara E. Williams and Kevin J. Williams
Cinematography by Jeffrey Metzner and Kevin J. Williams
Camera by Jamaal Green and Tamara E. Williams
Gaffers: Sam Wells and Jamaal Green
Additional Camera: Phil McCauliffe and Marc Skinner
Previous Screenings: Atlanta, GA - World Premiere; Charlotte, NC; Greensboro, NC; Wilmington, DE; Kansas City Urban Film Festival - Kansas City, MO; Buffalo, NY; Rochester, NY; Trenton, NJ; Portland, OR; Washington, DC; Philadelphia, PA; Montgomery, AL; Jackson, MS; Dallas, TX; Waco, TX; Tucson, AZ; Albuquerque, NM; Salina, KS; Chicago, IL; Los Angeles and San Diego, CA; Canton, NY.
Upcoming Screenings: New York, NY (5/15/13); Fort Lauderdale, FL (5/31/2013)
Approx. 111 Mins Printed in U.S.A. 4:3 aspect ratio
This film has not been rated.