The Bear Volume 2's Kickstarter is in Full Swing
After successfully self-publishing their first book, Ryan Sohmer and Becky Dreistadt are thrilled to launch their second volume in this illustrated and humorous series of parenting books.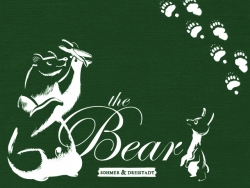 Montreal, Canada, May 18, 2013 --(
PR.com
)-- The Bear – A first time parent's continuing journey, a sequel to last year's Kickstarter-funded book, has found an audience with not only children, who marvel at the luscious watercolour depictions of exotic animals, but also with parents who can relate to the humorous, and sometimes poignant, prose that accompanies the art.
The first volume of the book was launched last year on crowd-funding site Kickstarter. Sohmer explains that he decided to crowd-source fund for the project because he wasn't positive he'd find readers. "I'd been told by a lot of publishing companies that there would be no interest in something like this," he says. "I could give you a pretty impressive list of rejections." We finished our 30 day campaign with 486% of our funding goal and over 3,000 books sold.
Last week, Sohmer and Dreistadt launched a new Kickstarter campaign to fund the printing of their latest book in the series. "I truly believe this book belongs in the hands of every new or expecting parent. As a parent and a writer, it gives me great pleasure to bring humour into one of the most important and meaningful parts of a parent's life," says Sohmer.
Sohmer and Dreistadt are hoping to raise $40,000 through Kickstarter so they can self-publish and print their collected work. At the time of this press release, they had already raised close to $29,000.
For more information on our current Kickstarter please visit our page at:
http://www.kickstarter.com/projects/1412277313/the-bear-a-first-time-parents-continuing-journey
For more information on our successfully funded Kickstarter, please visit our page at:
http://www.kickstarter.com/projects/1412277313/the-bear-a-first-time-parents-journey
You can visit The Bear's website at: mybear.net
The Bear will be published by Blind Ferret in Canada.
Contact
Blind Ferret
Ariadne MacGillivray
5149067587
www.blindferret.com

Contact