Historic Jail Opens Its Doors to Film Makers Before Renovations
The historic Saint Louis County Jail, located in Duluth, Minn. is opening its doors to filmmakers and musicians who will be given the opportunity to use this unique structure for their film projects before it gets renovated.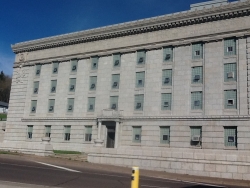 Duluth, MN, May 23, 2013 --(
PR.com
)-- On June 1 the historic Saint Louis County Jail, located in Duluth, Minn. is opening its doors to a private event for filmmakers and musicians who will be given the opportunity to use this unique structure for their film projects before it gets renovated. Jail owner and owner of Blue Limit Development LLC, Grant Carlson, has teamed up with the 2013 Duluth Superior Film Festival Producer, Rick Hansen and local Duluth record label; Chaperone Records, to host "A Night in Burnham's Jail", an open house for filmmakers, directors, producers and musicians attending the Film Festival. This is the fourth year Hansen has hosted the Duluth Superior Film Festival taking place May 29 – June 2.
"There will be a number filmmakers and producers from around the country in Duluth the last weekend of May, this is a perfect opportunity to showcase the jail as a film shoot location before the structure is renovated for its next use," Carlson said. "I titled the event 'A Night in Burnham's Jail' after the famous American Architect, Daniel Burnham, who designed the Duluth Civic District that includes the jail."
Each year, Rick Hansen invites filmmakers, writers, directors, actors, and others from around the country to screen their film projects or participate as a panel of judges for the festival. This year is no different with people coming from as far as New York City, Los Angeles, and France to participate. While in Duluth they have the opportunity to tour the historic jail during the private showcase. "The Duluth Superior Film Festival has taken great pride to partner with excellent collaborators to produce great events in the past, but this event may top them all," said Hansen. Using old historic buildings for film shoot locations can be a unique way to set a scene. "We have a gem of a location within our midst right here in Duluth. This is a great opportunity for a filmmaker that is looking for an old jail to shoot in. All the security issues and red tape that goes with filming in an actual working jail is gone. Duluth is a very film friendly community and this certainly adds to the strong arts scene here." - Riki McManus, Director at Upper Minnesota Film Office.
"Duluth is a wonderful place to host a film festival. Top-notch filmmakers from all over the country congregate in downtown Duluth, walking from various movie venues to restaurants, bars and other local art and music attraction. It doesn't hurt that the backdrop for all this is the biggest fresh-water lake in the world. It reminds me a bit of Park City, Utah during Sundance; without the massive lines," Hansen said. Hansen is a Duluth born filmmaker and actor.
The former Saint Louis County Jail escaped demolition when Blue Limit Development took on the project in 2010. And although Carlson initially envisioned office space as a reuse for the historic structure, three years later markets and trends in Duluth make this project a great opportunity for housing. Since shifting the jail project's direction, Carlson has been searching for development partners with more housing experience to team up with. "Whether market rate apartments over ground floor retail, service care focused housing for seniors, or affordable live-work space for artists; the type of housing units at the jail will in part be determined by the development partner that I team up with," Carlson stated. Since buying the building, Carlson's team has focused on generic improvements to the building that do not limit different reuse options. Significant work has been done to the exterior building shell and services into the building; leaving the property "development ready," according to Carlson.
The 5-story jail was built in 1924 as part of the Duluth Civic District designed by the American architect, Daniel Burnham. At full capacity, the jail could house nearly 200 inmates and functioned for 70 years before closing its doors in the early 1990's. After closing, the building's future was uncertain, with plans of demolition. In 2009, the building was listed on the Preservation Alliance of Minnesota's most endangered buildings list, but Carlson bought and saved the building in 2010. The jail has since received significant grant money from the State of Minnesota to secure its historic structure.
Contact
Blue Limit Development
Rose Gildor
612-986-7137
bluelim.com

Contact
Multimedia
The Historic Saint Louis County Jail Redevelopment Project in Duluth, Minn., Blue Limit Development is hosting an event for filmmakers attending the 2013 Duluth Superior Film Festival.