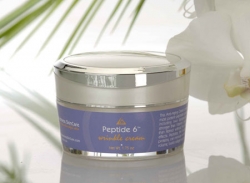 Palm Beach, FL, May 23, 2013 --(
PR.com
)-- Mango Madness Skin Care, Inc. announced that it has improved and updated the formulation of its Peptide 6™ skin cream by utilizing more potent variations of peptides.
Peptides are amino acid sections comprised of proteins that enable various tasks, such as serving as chemical messengers that relay instructions to the body's cells to perform certain functions. Some of the functions of specific peptides such as Argireline inhibit the contraction of tiny muscles in the skin that can cause wrinkles.
Other peptides send a message to specialized skin cells to replace collagen that has been broken down by natural processes. As the skin ages, collagen that is lost through natural factors is increasingly less able to replenish itself. Clinical studies by the National Institutes of Health have demonstrated that topical application of certain peptides can promote collagen growth to yield a thicker foundation under the skin surface and fewer wrinkles.
Three of the six peptides in Peptide 6™ have been enhanced to the most recent versions: Acetyl Hexapeptide-3 is now Acetyl Hexapeptide-8; Pentapeptide-3 is changed to Pentapeptide-18; and Palmitoyl Tetrapeptide-3 is replaced by Palmitoyl Tetrapeptide-7.
"In keeping with our long-standing policy to provide continuous improvement to our
advanced skin care products without parabens
, three of our six peptides, including the Botox® alternative Argireline, have been further refined and improved to provide the best wrinkle reducing cream you can find on the market," said Gary Myers, CEO of Mango Madness Skin Care.
In addition to blending Peptide 6™ to contain no phthalates, parabens, sulfates or other controversial ingredients, all Mango Madness Skin Care products are animal cruelty free.
Mango Madness Skin Care manufactures a comprehensive selection of medical grade paraben free products including retinol and peptide wrinkle creams, hyaluronic acid moisturizers, amber, glycolic acid and microdermabrasion type exfoliation creams, a vitamin K eye care cream, cleansers for sensitive skin, and a broad spectrum sunscreen.