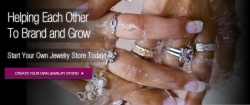 Orlando, FL, May 29, 2013 --(
PR.com
)-- 4everjewelry, Inc., a web-based jewelry retailer announces the launch of
www.blingitonjewelry.com
, a free e-commerce sharing online jewelry store opportunity. The retailer pays out generous fifty percent commissions to its partners seeking extra income for every sale they wrangle.
Carrie Bierman, CEO of the small privately held company states; "Our goal is to help others start their own online jewelry business without initial investment costs or the set up and maintenance headaches involved with operating your own web site." The line of fashion jewelry merchandise 4everjewelry offers has proven to be successful with sales approaching close to one million dollars last year.
Since advertising and branding are the keys to exposing and expanding any business, Carrie wanted to reach out by implementing a business model that motivated others to promote 4everjewelry's products. "Other online businesses have already adapted this concept. The differences between the competition and us are (aside from our catchy name): sales incentives are higher, a vast selection of classic jewelry styles are offered, and innovative marketing ideas are accessible to our partners," states Carrie.
How does blingitonjewelry.com work?
Once a business partner (affiliate) signs up and opens their own unique online jewelry store through the master site, members select which fashion jewelry styles they wish to feature in their e-commerce store. Affiliates also get to choose a customizable look, name, and feel for their own personalized store. Once a member has opened its storefront, they may promote their new business through the social media channels, powerful email marketing blasts, and 4everjewelry's online training videos and other powerful marketing tools are accessible to ensure their store's success. Once member sales are generated, they're tracked with the company's complex affiliate software and monthly commissions are distributed.
Carrie smiles and states; "You don't have to be tech savvy to do this. There's no need to worry about: stocking or shipping products, taking online orders, paying merchant fees, investing in web hosting, or any of the other burdens and costs involved with running your own e-commerce store. Our partners spread the word in this joint venture and use our no cost marketing and training tools and share sales with us. If a necklace is sold for eighty-dollars, the affiliate receives their portion of forty dollars- just for promoting high-end fashion jewelry."
Who does this new, risk free business opportunity appeal to?
4everjewelry, Inc. has decided to take blingitonjewelry.com to the international marketplace- since the web is worldwide; anyone over eighteen years of age can open up an online storefront. Bierman is hoping to reach: students, unemployed individuals, stay at home parents, retirees, and extra income seekers. "In our less than perfect economy, money is a motivator and most can surely use extra revenue. Moreover, blingitonjewelry.com offers an absolutely risk free opportunity to earn that's as easy to use as sharing a link to the new business on Facebook. Overall, we aim to assist aspiring entrepreneurs with blingitonjewelry.com; so it's a beneficial opportunity for all parties involved." states Carrie.