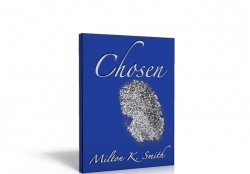 San Antonio, TX, June 03, 2013 --(
PR.com
)-- In a time when loss and confusion are commonplace in news headlines, local pastor Milton K. Smith is taking a stand--helping his congregation and people everywhere find purpose in life.
In his new book, Chosen, Pastor Smith shares that each person on this earth has a defined purpose; that each one of us is chosen by our creator to fulfill a special role in this world.
"You are not here by happenstance. You are not an accident. Regardless of the circumstances surrounding your arrival, your insertion into this time is according to plan. Others may not be privy to the plan for your existence but God has determined the end from the beginning," Pastor Milton says in his book.
The book, Chosen, was developed from a sermon Pastor Smith gave in 2012 that moved his congregation to action--action that changed the lives of the men and women who heard him speak.
And now that book is available to anyone who wants to hear the message that they are created for a specific purpose, and chosen by God to fulfill that purpose.
Chosen, released in April 2013, is available on Amazon.com and wherever eBooks are sold online. You can also get signed copies of the book from the author when you contact him on his website, www.MiltonKSmith.com.
Milton K. Smith is available for interviews or speaking events. Please contact Pastor Smith directly at mks@miltonksmith.org.
Chosen
Available at Amazon.com
and wherever books and eBooks are sold
ISBN: 978-0-9886818-0-4 Digital: 978-0-9886818-1-1
Size: 4.5" x 6.75" Pages: 92
Order from the author at mks@miltonksmith.org www.miltonksmith.org