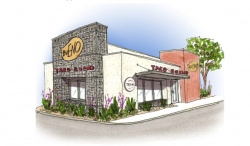 Farmers Branch, TX, June 01, 2013 --(
PR.com
)-- Taco Bueno® is pleased to announce a partnership with Plan B Group, Inc. on a new innovative restaurant remodel design. Construction began on the Company's first remodel at 1723 West Scyene Road in Mesquite this month. The store has not been closed during the remodel but the store will have an official re-opening celebration on Tuesday, June 4 starting at 9:00AM.
"This new design will debut with a full day celebration including two $100 gift card giveaways each hour from 9AM to 10PM*," said Ramon Torres, SVP of Operations for Taco Bueno. "We can't wait to share the new innovative design with all our Dallas-Fort Worth area Buenoheads."
The new Modern Pueblo design unifies the various building styles that have been built over the years as Taco Bueno has evolved. The primary design feature is the use of a Gabion wall system on the towers that will modernize the older facilities and also create a new brand icon that can be used going forward. Gabion walls, which are simple wire mesh and rock retaining walls, have been used for centuries.
"Our design is a new take on this classic idea. This detail combines the galvanized steel 'basket' over the stacked stone," said Royce Ring, Principal, Plan B Group, Inc. "The Gabion scheme is meant to contrast with the neutral tones of the surrounding stucco walls that will emphasize the new trade dress. Simplifying the color palette, incorporating new signage and adding native landscaping all work in concert to create a new, organic, fresh and highly recognizable exterior image for Taco Bueno." Alexander Urrunaga, Plan B Group Inc. Principal and native South American, describes the new design paradigm as "Ree-Bueno."
Mesquite is the first store to utilize the new modern restaurant design, but will be quickly followed by remodels in additional DFW and Tulsa area markets. The dining-in experience of all these locations will also be enhanced with new lighting and seating to mirror the commitment to a high quality experience found in all Taco Bueno restaurants.
Founded in Abilene, Texas, Taco Bueno operates 176 restaurants in Texas, Oklahoma, Arkansas, New Mexico, Louisiana, Kansas and Missouri), Taco Bueno is committed to the freshest, highest quality ingredients and a unique, authentic Mexican food experience. The company is privately owned by Palladium Equity Partners. Find out more about Taco Bueno by logging on to www.tacobueno.com or www.facebook.com/buenoheadquarters.
Dallas based architecture and design firm Plan B Group, Inc. specializes in hospitality design. Find out more about Plan B Group, Inc. by logging on to www.planbgroup.net
*Taco Bueno $100 Gift Card entries begin 5:55AM on June 4, 2013 and end at 9:55PM on June 4, 2013. May not be present to win. Winners will be contacted on Wednesday, June 5.