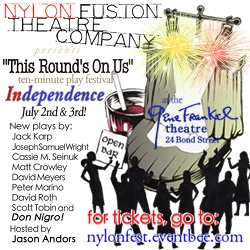 New York, NY, June 12, 2013 --(
PR.com
)-- The writers and friends of Nylon Fusion take comic, whimsical, and sometimes poignant looks at the meaning of dependence and independence in these short, free-flowing plays.
Plays by Don Nigro, Matt Crowley, Jack Karp, Cassie M. Seinuk, David Meyers, Scott Tobin, Peter Marino, Joseph Samuel Wright, and Dan Roth.
Hosted by Jason Andors who has appeared on HBO's Bad Boys of Comedy, Showtime at The Apollo, Comedy Central's Premium Blend, Comics Unleashed, SITV's Latino 101, Showtime's White Boyz in the Hood, BET Comic View, and was recently seen on Gotham Comedy Live.
Don Nigro is among the most frequently published and widely produced playwrights in the world and has continued to build a deeply interrelated and diverse body of dramatic literature, employing a wide variety of dramatic conventions and styles of presentation. He has written monologues and epics, spare realistic dramas and surreal homicidal puppet farces, plays with music and verse plays. Mr. Nigro has won a Playwriting Fellowship Grant from the National Endowment for the Arts (for Fisher King), twice been a finalist for the National Repertory Theatre Foundation's National Play Award (for Anima Mundi and for The Dark Sonnets of the Lady), has won grants from the Mary Roberts Reinhart Foundation (for Terre Haute) and the Ohio Arts Council, and twice been James Thurber Writer in Residence at the Thurber House in Columbus. His work has been translated into French, Italian, Spanish, German, Polish, Greek, Russian, and Chinese.
Nylon Fusion is a company of writers, actors and directors committed to developing and producing original plays that explore political, social, and cultural awareness.
The Gene Frankel Theatre
24 Bond Street
New York, NY 10012
The nearest subway is the Broadway and Lafayette Station: 6, F, M, B & D train
Tickets at the door: $20.00
For tickets: nylonfestival.eventbee.com, tickets at the door will be $20.00.
July 2 at 7pm, July 2 at 9pm, July 3 at 7pm, July 3 at 9pm.
Nylon Fusion is also presenting a pairing of world premiere plays by Don Nigro: Mata Hari and Marina, starring Tatyana Kot and Curtis James Nielsen directed by artistic director Ivette Dumeng. The show will be playing at the Robert Moss Theater, 440 Lafayette Street, June 15 - June 22, presented as part of the Planet Connections Festivity. For tickets and info, go to planetconnections.org/mata-hari
Coming on August 14 - August 25, 2013 at The Dorothy Streslin Theatre at 312 W 36th St. - LUFT GANGSTER, by Lowell Byers, directed by Austin Pendleton. Go to NylonFusionCollective.org for more info!
For Tickets please RSVP a nylonfusion@gmail.com