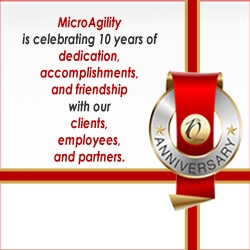 New York, NY, June 17, 2013 --(
PR.com
)--
MicroAgility, Inc
, an award-winning
business and technology consulting
company, announced today that it will be commemorating the 10th anniversary of its founding in 2003 with utmost gratitude.
"MicroAgility is celebrating ten years of dedication, accomplishment, and partnership with our clients, employees, and partners," said Sajid Khan, President of MicroAgility. Mr. Khan further added, "During this time, MicroAgility has helped numerous clients solve their business and technical problems. Our dedication enabled our clients to achieve their envisioned objectives, and our long list of satisfied clients is a testimony to the workmanship, technological depth, efficiency, and customer relations that we maintain." Additionally, Mr. Khan thanked MicroAgility's employees, partners and clients for their continued support, trust, and partnership.
As a part of its 10th anniversary initiative, MicroAgility is offering a special discount (up to 20%) for all new work orders till the end of this year, as a way of saying thank you.
About MicroAgility:
MicroAgility (http://www.MicroAgility.com) was founded in 2003 by former executives of "Big four" consulting and Wall Street firms. We are a team of agile and result-oriented consultants with first class business, technology, management, and operational experience. In addition, we have an internal database of over 25,000 diverse and qualified Business and Technology consultants that we utilize for building a specialized team (small or large) to help you achieve your goals. At MicroAgility, we believe that technical excellence is essential in delivering high quality projects. We take that as our starting point and aim to go much further, i.e. we genuinely want to delight you by providing you with first class consulting services, exceeding your expectations, establishing long-term relationships with you, and be your best partner.