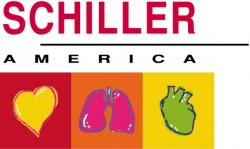 Doral, FL, June 26, 2013 --(
PR.com
)-- Schiller America, Inc. has teamed up with Attainia, the most widely used equipment planning, budgeting, and tracking software available, to provide for the first time Schiller's renowned cardiopulmonary devices to acute care members in North America. This new partnership will allow equipment planners and purchasers, easy access to Schiller product information, pricing, and specifications.
"Attainia's reach in healthcare projects and budgets is the right place for Schiller to showcase our extensive line of Cardiopulmonary devices, both to the hospital staff, as well as their equipment planning consultants," notes David Helowicz, Vice President & General Manager, Schiller America. "We look forward to a productive relationship."
Anil Singhal, MD, Vice President Supply Chain Services stated, "We welcome Schiller America into our supplier program, and are excited that Attainia can provide the platform for review of and access to Schiller products."
For more information, visit www.schilleramerica.com or contact Schiller America, Inc. at 1 (888) 845-8455.