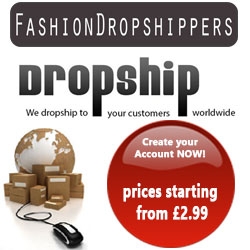 Barking, United Kingdom, July 01, 2013 --(
PR.com
)-- Kaico Fashion Ltd one of London's largest affordable fashion wholesalers announces the launch of FashionDropshippers.com.
Kaico Fashion Ltd has seen some rapid growth in 2013 and have added FashionDropshippers.com to their ever growing stable of online ecommerce websites. Designed as the premier UK fashion dropshipping service Kaico Fashion has invested heavily in creating a system that allows almost anybody to run their own online womens fashion business.
A spokesperson for Kaico Fashion said "Whether you are interested in earning an additional income, or wish to run a full time business, the exciting Fashion Dropshippers opportunity can work for anyone. If someone has a few hours to spare each week or they want to devote themselves full time, Fashion Dropshippers is an ideal opportunity. Unlike the usual way of running a business, sourcing and buying in stock, storing it and then hoping you manage to sell it all, our service means you don't actually have to buy any stock until you know you already have a sale, obviously this reduces start up costs and initial overheads."
With internet sales of consumer products soaring every month and in 2012 online retail sales increasing by 14% to more than £50bn, and the internet retail trade accounting for 12% of total spending, it has never been a better time to start thinking about extra income or an online business and FashionDropshippers.com has made this a simple and realistic option for many people looking to branch out on their own.
FashionDropshippers.com has over 1500 dresses, shoes, handbags and accessories available for potential dropshippers to buy at incredible prices starting from £2.99. With recession busting prices and high quality unbranded womens fashion items everyone is a winner. More and more consumers are changing their spending habits and looking for quality bargains and this applies very much so to womens fashion, Kaico Fashion has had a successful first half of the year in online sales and predict an increase for the final half.
If you want more information about their recently launched website or
wholesale and dropshipping opportunities
with Kaico Fashion please contact them on 020 8591 2345 or visit their website at
www.fashiondropshippers.com
.