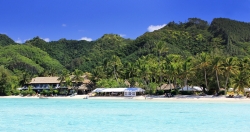 Rarotonga, Cook Islands, July 04, 2013 --(
PR.com
)-- Over the past 12 months and continuing on for the next 6-12 months, Pacific Resort Hotel Group (PRHG) is investing over NZD$1million in resort upgrades for two of their iconic Cook Islands properties, Pacific Resort Rarotonga and Pacific Resort Aitutaki.
The most recent of these upgrades was the conversion of one of its Premium Beachfront Bungalows into a One Bedroom Ultimate Beachfront Bungalow at Pacific Resort Aitutaki. PRHG have found the bungalows to be a popular room choice for families or travellers who want the extra space. This upgrade has increased the accommodation inventory at Pacific Resort Aitutaki to include two, one bedroom Ultimate Beachfront Bungalows offering a separate bedroom and lounge area with a large private sundeck. Other upgrades at Pacific Resort Aitutaki include full restaurant linen and tableware upgrades in early 2013 and full bathroom and bedroom linen upgrades earmarked for late 2013.
At Pacific Resort Rarotonga, PRHG have invested in a brand new on-site commercial laundry facility, which has significantly increased the quality and standards of guest room linens. The resort has also upgraded air conditioning to Premium Beachfront Suites increasing capacity and performance. In addition to this, Pacific Resort Rarotonga has recently completed a full bathroom and bedroom linen upgrade, installed a new IP-based PBX Resort and Guest Telephone System and launched a three year upgrade program for all beds to plush pillowtop luxury standard.
"One of PRHG's key success factors as a management company has been effective asset management and maintaining strong ongoing capital expenditure programs for all our resorts," comments Pacific Resort Hotel Group's CEO, Greg Stanaway. "This provides us with a solid foundation and springboard to ensure we maintain our position as market leaders not only in the Cook Islands but across the South Pacific."
Log on to www.pacificresort.com for more information about Pacific Resort Hotel Group - Cook Islands
Notes to Editors
About Pacific Resort Hotel Group
Pacific Resort Hotel Group (PRHG) represents a distinctive collection of world class South Pacific hotels. PRHG is a boutique hotel and resort management company with an enviable reputation for resort design, development, management and marketing. PRHG properties offer premium and personable holiday experiences that leave guests feeling rejuvenated, inspired and wanting to share their experience with others. We are a passionate team dedicated to developing boutique island resort and hotel experiences with a focus on local culture, architecture and landscaping. For more information visit
www.pacificresort.com
About Pacific Resort Aitutaki
Secluded Luxury…Like a siren of the Pacific, Aitutaki, Cook Islands, beckons you. This magical place, full of South Seas idyll and romance, is home to Pacific Resort Aitutaki, an enclave of privacy, refinement and luxury, which seduces even the most discerning traveller. Pacific Resort Aitutaki member of the Small Luxury Hotels of the World collection has just 27 luxurious "absolute beachfront" bungalows, suites and villas all with their own personal, panoramic view of Aitutaki's world-famous lagoon, where every sunset majestically captures the colours of the lagoon and the ocean beyond. For more information visit www.pacificaitutaki.com
About Pacific Resort Rarotonga
Located in the South Pacific island nation of the Cook Islands Pacific Resort is Rarotonga's leading full-service authentic boutique resort situated in an unrivaled location on the glorious white sands of Muri beach. This premium boutique resort offers a perfect blend of modern comforts and traditional island hospitality. A place where simple, lazy days meet luxurious evenings. And where the friendly, gracious staff meet your every request. For more information visit www.pacificrarotonga.com