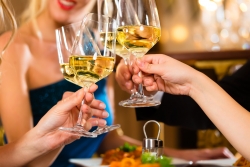 Glendale, AZ, July 23, 2013 --(
PR.com
)-- What makes the perfect couple? Find out this Saturday, July 27, at Arrowhead Grill's monthly Wine Club event, where Arrowhead Grill will couple gourmet hors d'oeuvres with a selection of four flavor-enhancing wines.
The Northstar Premiere Merlot, with its unique aroma of cherry, black raspberry, vanilla, graham cracker and spice, is a full-bodied merlot with hints of floral notes, dark fruits and chocolate covered cherries. The wine hails from Washington's Northstar Winery, renown for having all of their wines in the Wine Spectator with rankings above 90 points.
Erath Reserve Pinot Noir is a palate pleaser of light tannins that has an aroma of red plum and raspberry laced with spice, sage and cracked pepper. It has a sultry flavor of cherry, cranberry cocktail and a whisper of vanilla spice. Its creator, Dick Erath, was the first winemaker to promote and cultivate Pinot Noir in Oregon and get top scores.
First established in the Santa Barbara Vineyard, the Sanford Chardonnay packs a bountiful bouquet. Notes of ripe citrus and orchard fruits provide the first hints of what's to come. Lemon, pear and spices solidify the flavor, followed by a certain complexity given from honey and white flowers.
Wine enthusiasts will explore the sweet, intense flavors of Brancott's Sauvignon Blanc, a refreshing white with a distinct style. White stone fruit and citrus blossom with a touch of pink grapefruit give this wine its flavor. Hailing from New Zealand, this vineyard planted their first Sauvignon Blanc vines in 1975.
Arrowhead Grill is offering an intriguing selection of mouth-watering hors d'oeuvres that can be coupled with different wines, including braised oxtail, scallop bruschetta, tomato goat cheese salad and butter cake bites. Arrowhead Grill's wine expert will be on-hand to help patrons discover the best pairings.
"Pairing the right wine with each dish takes the concept of just drinking wine and turns it into a sensual experience of new tastes and sensations," said Chef Charles Wade Schwerd, owner of Arrowhead Grill. "This Saturday we encourage guests to find out which pairing of food and wine is the perfect couple."
The Wine Club will gather at Arrowhead Grill from 2-4 p.m. on Saturday, July 27. The event is open to the public and costs $25 per person. Reservations are required and space is limited. To RSVP for this month's Wine Club event call (623) 566-2224 or visit www.arrowheadgrill.com/reservations.
Known as one of the Valley's best steakhouses, Arrowhead Grill is located at 8280 W. Union Hills Dr. (Loop 101 and Union Hills) in Glendale.
To get the latest news on Arrowhead Grill's daily specials, follow Arrowhead Grill on Twitter at www.twitter.com/arrowheadgrill or on Facebook at www.facebook.com/arrowheadgrill.
About Arrowhead Grill
Established in 2008 by renowned Valley chef Charles Wade Schwerd, Arrowhead Grill epitomizes Schwerd's two decades of steakhouse experience, offering Valley residents a diverse menu of top quality steak and seafood. Featuring all natural meats and fresh, mercury-free seafood selected especially for Arrowhead Grill, the Glendale-based restaurant offers something for everyone in a setting that's unpretentious yet sophisticated. For more information, please visit www.arrowheadgrill.com.