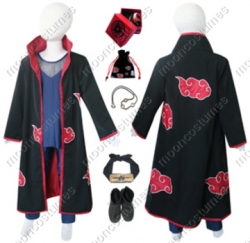 Durham, NC, September 01, 2007 --(
PR.com
)-- Moon Costumes has expanded it's line of Anime character costumes to include
sixteen children's styles
in two sizes. This is the first time a full selection of children's cosplay styles are being mass produced and distributed in the US. This year's limited release of children's costumes are inspired by the Bleach, Naruto, and Kingdom Hearts manga and anime series.
"We anticipate a huge response for Halloween 2007," says CEO Erik Aronesty, "Cosplay had traditionally been an young-adult pastime, but this year we're seeing more interest in children's sizes."
Cosplay is a term for the Japanese tradition of dressing up as a favorite character, not necessarily for a holiday or special occasion. Moon Costumes produces high quality cotton, denim and vinyl cosplay costumes for children and adults. The costumes wear and wash like regular clothing.
"The Anime-fan generation in the U.S. are becoming parents now. There are kids who have grown up with Naruto manga (comics) being read to them at bedtime, though perhaps censored a bit. It's only natural for the tradition of Halloween to merge with Cosplay."
Moon Costumes
is the leading supplier of Cosplay costumes in the U.S, and is one of the top selling Halloween costume retail stores online. They are based in Durham, NC.
###