panicLINK, the At-Home Treatment Program, Unlocks the Answer to Living Anxiety Free
A former Harvard-affiliated doctor announces the release of the panicLINK treatment program. After 30 years in practice, with over 5,000 patients treated for panic attacks, Dr. Blumberg is letting sufferers bring his office into their own homes. Those affected by anxiety can now try panicLINK — the world's most comprehensive panic relief system — free for a full 30 days. The DVD, workbook, CD, and guidebook set includes everything people with this disorder need to start living panic free.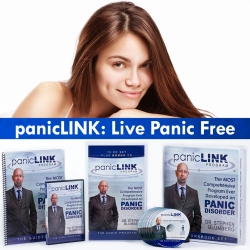 Boynton Beach, FL, July 30, 2013 --(
PR.com
)-- 6 million adults in the United States suffer from clinical panic disorder; falling prey to the traumatic symptoms often associated with this illness.
Out of the Blue Network, LLC and
panicLINK.com
announce a proven, drug-free solution to the lightheadedness, the shaking, the chest pains, the rubbery legs, inner trembling and fear of impending doom that can come with a panic attack.
Introducing panicLINK: the world's most comprehensive panic disorder treatment program. Created by Dr. Stephen Blumberg, a licensed psychologist and former consultant to the Tufts University School of Medicine, panicLINK now allows those fearing their next panic attack to easily bring the doctor's office home.
The multi-media program allows anxiety sufferers to see and hear and read exactly what Dr. Blumberg would say to patients during an office visit... all from the comfort and convenience of their bedrooms, cars, or living rooms.
"Developing a cost-effective, in-home version of my office treatment was important to me for 5,995,000 reasons," says Dr. Blumberg. "In my thirty-year long career I am proud to have successfully treated over 5,000 panic disorder patients. But with 6 million Americans now affected by panic disorder that leaves 5,995,000 sufferers who haven't walked through the door of my practice. Unfortunately, a large percentage are undiagnosed. With a scientifically-validated, drug-free treatment still not readily available, I needed a way to be able to reach out directly to this population and share my expertise."
panicLINK contains everything users need to uncover the hidden cause of their panic attack symptoms — The Missing Link for permanent panic relief.
Shockingly, the people who have the highest level of panic often don't know they are suffering from an anxiety attack. Instead, they rush off to the emergency room — convinced they're experiencing a heart attack or worse. The American Psychological Association reports that sufferers sometimes "see 10 or more doctors before being properly diagnosed, and that only one out of four people with the disorder receive the treatment they need."
So who secretly has clinical panic disorder? Likely candidates include people who avoid stressful situations like highway driving, large crowds, or even trips to the market.
Those experiencing "fight or flight" responses — such as a racing heartbeat, difficulty breathing, dizziness, etc. — in seemingly harmless situations are urged to log on to panicLINK.com. There visitors can take a 3-minute panic disorder test. The public can also call Dr. Blumberg directly at 1-800-366-6570 to learn about a free trial of his treatment program.
About Dr. Stephen Blumberg and panicLINK.com
Having treated over 5,000 patients, Dr. Stephen Blumberg — a former Harvard-affiliated health psychologist — developed an exclusive step-by-step approach to taking control of panic. panicLINK is now available for the first time ever outside of his office.
Contact information:
Out of the Blue Network, LLC
Dr. Stephen Blumberg
1-800-366-6570
info@whypanic.com
www.panicLINK.com
Contact
Out of the Blue Network, LLC
Dr. Stephen Blumberg
1-800-366-6570
www.panicLINK.com

Contact