Xclaimed Ministries is Strengthening the Community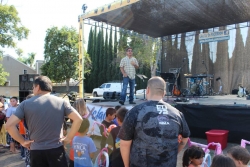 Stanton, CA, July 30, 2013 --(
PR.com
)-- About 400 people attended the Xclaimed Ministries' "REVIVE" event (Concert in the Park) on Saturday, July 27, 2013. Scooters, Barbies and quads were the big hits for the kids. Adults went home with new dishwashers, comforters, pillows, sinks, shower head assemblies, coffee makers, home decor items, towels, chocolate fountains, jewelry boxes, memory foam bedding and much more.
The Ministry has scheduled three of these events as part of their summer community outreach and one Christmas Festival for the winter finale. Each event is designed to offer free resources to the community as well as providing a day of free activities, a concert and a Message of Hope by the Ministries co-founder, Paul Karanick. Now, in it's 8th year of outreach, Karanick said, "The Ministry has reached new levels of assistance because of its commitment to helping people in need. We greatly appreciate the help from The Home Depot, Bed Bath & Beyond, Sam's Club, The Disney Store, Adventure City Theme Park and Original Tommy's Hamburgers who have all donated items that we can pass on to people who need them the most and create a stronger community."
At the end of the day, people in the community were able to enjoy some time together where everything was free.
Karanick said, "Today, I spoke about the love that God has for all of us and that no matter what we have done in our past, God loves us unconditionally. We do not need to earn His love. There was a great response to the invitation to accept Christ into their lives. About 8% came forward and about half of them were children! It was so exciting to hear the children's voices praying out loud asking Christ into their lives."
For additional information about Xclaimed Ministries visit
http://www.xclaimed.org
or http://www.facebook.com/xclaimed
Comments from the Xclaimed Facebook page:
"Had a great time. My godson came home & was off riding his quad & other kids enjoying their scooters & me sleeping well on my memory foam!" Lucy B
"It was awesome. The Lord really gave me a renewing of my heart mind and spirit! Such great leadership with the band! U have blessed my family n friends with a great day! I was truly honored to be the winning ticket for the nice dishwasher! Thank You Pastor Paul and Tina. My friends and children are so happy to experience your goodness! The Lord uses your ministry in a mighty, mighty way to administer to the hearts and spirit of the families, youth and children. I'm excited to see our children come to the cross of Calvary. LOVE U ALL!" Marla S
"So many people showed up to see how God shows up in this ministry. It's awesome how it is so evident that this ministry is blessed by The Lord. Kids walking away with scooters, and my son got an electric quad. Christmas in July! Beautiful day with beautiful people. God bless you all for the love you show His people!" Myra J
"Thanks for the blessing, my daughter was the winner of 2 Adventure City tickets, my niece won a bike, my brother and sister won a shower set and a fan. The kids are so happy with their toys. God Bless you." Hilda H
"Praise God for such a great outcome ! Wow your ministry ROCKS ! Continued prayers for the September one ! Love you all. " Bernardine R
Contact
Xclaimed Ministries, Inc
Paul Karanick
(714) 803-9692
http://www.xclaimed.org
10871 Western Ave
Stanton, CA 90680

Contact