Dataline Launches Web Based Solution for Clinical Trials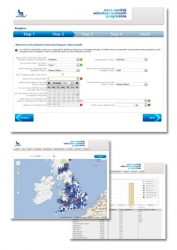 Brighton, United Kingdom, August 02, 2013 --(
PR.com
)-- Novo Nordisk is a world leader in diabetes care and continuously carries out clinical research programmes in its endeavour to develop new and effective treatments. These programmes currently involve over 2,000 UK diabetes patients - volunteers - in clinical trials every year at around 100 UK study sites in primary and secondary care settings.
The recruitment of suitable volunteers for the research programmes is not a trivial task and Novo Nordisk's Volunteer Outreach Programme (VOP) assists the study sites through:
• Targeted advertising
• Maintaining an on-going database of potential clinical trial volunteers
• Matching potential volunteers to clinical trial study programmes and geographical sites
This recruitment process has largely been managed through a contracted call centre, which registers potential volunteers and their pertinent clinical details to Novo Nordisk. Novo Nordisk project managers are then faced with the task of validating these clinical details, manually matching them to clinical study criteria and ensuring the details are sent to an appropriate study location within reach of the volunteer's home.
An integrated and automated solution
The number of volunteers is expected to increase dramatically over the next two or three years, due both an increasing number of products in development and increasing regulatory requirements affecting clinical trials. In view of the expected increase in volunteer numbers, it became clear to Pete Morley, Clinical Projects Manager at Novo Nordisk that an integrated and automated solution was required. Pete asked healthcare specialists
Dataline Software
to design a solution to improve the management, efficiency and effectiveness of the volunteer recruitment process from initial registration to matching of volunteers to study programmes and sites.
The solution designed, built and now hosted by Dataline is a web-based application driven by a relational database and accessible to the general public who have diabetes. It provides all the functionality required to process volunteer registrations, assess their eligibility for specific studies, plus their allocation to clinical trial sites for contact and follow up. The site provides services for four distinct types of user; volunteers, call centre operatives, patient facing clinical researchers and in-house clinical research staff.
Pete Morley considers the new system to be an important tool for bringing new medicines to people with diabetes, adding "with the implementation of the new portal, Dataline has helped us realise our vision of a seamless and integrated Volunteer Outreach Programme in a most cost effective and efficient way."
Technical Overview
The VOP web portal is compatible with all mainstream web browsers and was developed in ASP.NET utilising a Microsoft SQL Server database running on Windows Server 2008. The data access layer uses the .NET Entity Framework 4. The web layer uses ASP.NET MVC 3 plus the Razor view engine and jQuery is used for the client. A suite of reports has also been developed to provide instant feedback on key metrics using FLOT.
About Novo Nordisk (www.novonordisk.co.uk)
Novo Nordisk is a global healthcare company with 90 years of innovation and leadership in diabetes care. The company also has leading positions within haemophilia care, growth hormone therapy and hormone replacement therapy. Headquartered in Denmark, Novo Nordisk employs approximately 31,400 employees in 74 countries, and markets its products in 179 countries.
About Dataline Software (www.dataline.co.uk)
Dataline Software delivers bespoke software to businesses of all sizes and has a thirty year track record of delivering projects on time and to budget. It's portfolio of products includes i5®, a unique tool for publishing SQL databases on the web. Dataline is a Microsoft Certified Partner and a Cisco Registered Partner.
Contact
Dataline Software
Mike Robinson
+44 (0)1273 324939
www.dataline.co.uk

Contact
Multimedia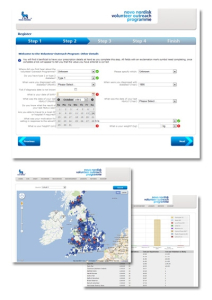 The solution designed, built and now hosted by Dataline is a web-based application driven by a relational database and accessible to the general public.