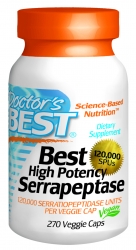 San Clemente, CA, August 15, 2013 --(
PR.com
)-- Derived from the Japanese Silkworm with Beneficial Health Effects, Now Available in 270 Vegetarian Capsule Size.
Doctor's Best has introduced Best High Potency Serrapeptase into its dietary supplement line. Scott Steinford, CEO of Doctor's Best, made the announcement. This product comes as 270 vegetable capsules, each containing purified serrapeptase enzyme providing a highly potent 120,000 units of serrapeptase activity. This is in addition to the 90 veggie capsule size also offered by Doctor's Best.
Best High Potency Serrapeptase features Serrateric™, a superior, natural alternative to enteric coating that protects the enzyme until it reaches the intestine for optimal absorption. Serrapeptase is a proteolytic enzyme originally isolated from the non-pathogenic bacteria Serratia species found in the digestive tract of the Japanese silkworm. The enzyme is used by the worms to digest their cocoons. Serrapeptase has been used as a nutritional supplement in Europe and Asia for nearly three decades.
As a proteolytic (protein digesting) enzyme, serrapeptase can have many beneficial health effects. It has been studied in Europe for its ability to promote sinus health and joint comfort, while it has also been used to maintain healthy circulation, among other potential benefits. According to Steinford, "Best High Potency Serrapeptase is a highly potent and active form of this unique enzyme that embodies the quality inherent to all Doctor's Best products."
Founded in 1990 by supplement industry veteran Ken Halvorsrude, San Clemente-based Doctor's Best, Inc., manufactures and distributes dietary supplements throughout the U.S. and internationally. Doctor's Best is known for a broad line of premium products that are scientifically based on sound research and manufactured utilizing proven quality ingredients. For more information, please contact Doctor's Best at (800) 333-6977.
* These statements have not been evaluated by the Food and Drug Administration. This product is not intended to diagnose, treat, cure, or prevent any disease.