Louisiana Announces 250 Healthcare Reform (PPACA) Leaders and Champions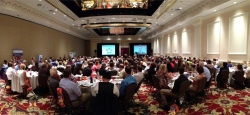 Baton Rogue, LA, August 22, 2013 --(
PR.com
)-- Health Agents for America (HAFA), a non-profit national trade association of insurance professionals took the step towards making their organization and their members leaders in the healthcare reform space by hosting a live one-day healthcare reform certification and training course in partnership with the Healthcare Reform Center and Policy Institute.
Barry Ward, the Deputy Commissioner of the Louisiana Department of Insurance from DOI-Insurance, opened the event with a keynote speech on the importance of this type of training and certification.
Ronnell Noland, President of HAFA, said "The Certified Healthcare Reform Specialist® program is the most comprehensive education out there that an insurance professional can receive. Louisiana employers deserve to be guided by insurance professionals who have had formal training in healthcare reform, and they should demand that their agent have this education. It is extremely important for insurance professionals have a more comprehensive education than human resource professionals and this is why we choose the healthcare reform certification™ program offered through HCRCPI."
Jonathan Edelheit, President of the Healthcare Reform Center & Policy Institute said, "HAFA members should be proud to add to their business cards and credentials the Certified Healthcare Reform Specialist™ designation. With very few insurance professionals being informed and educated in healthcare reform; this puts those HAFA agents who went through healthcare reform certification™ today far ahead of other insurance professionals and gives them a significant competitive edge. These live training sessions are being rolled out across the country. The event today was sold out and we are scheduling another Louisiana training in a few weeks."
The CHRS program is a comprehensive course, approved nationally for continuing education for insurance and human resource professionals, and designed to educate the students on the Patient Protection and Affordable Care Act (PPACA). Topics covered today included some of the following:
· What provisions come into effect in the future
· State, Federal, and Private Exchanges
· The Employer Mandate
· PPACA's Effects on Employer-Sponsored
· Taxes as a result of PPACA
· Healthcare Reform and Wellness
· How to discuss healthcare reform with employees
· Compliance Issues, Mandates and Deadlines
The CHRS Designation is offered in conjunction with the Health Care Reform Center and Policy Institute (HCRPI) and the Healthcare Reform Magazine. National healthcare reform experts and leaders developed the specialist designation and certification over the past several years. The certification can be taken online, or at the National Healthcare Reform Conference®, part of the Employer Healthcare & Benefits Congress and the National Health Insurance Exchange Conference, November 3-6, 2013 in Las Vegas, Nevada, www.HealthcareReformConference.com, www.EmployerHealthcareCongress.com or through onsite training and live webcasting. The healthcare reform certification is also offered as an interactive, group one-day training available for employers, agencies and insurance carriers.
About the Institute
The Health Care Reform Center and Policy Institute is a nonprofit public policy organization. Our mission is to conduct independent research to provide innovative and practical solutions for providing more affordable healthcare and insurance.
Affordable. Independent. Solutions.
The Healthcare Reform Center and Policy Institute is run by national healthcare reform leaders and experts from both the public and private sectors. HCRCPI provides research and creates insight and education through the publication of white papers, webinars, workbooks, and toolkits with a mission to convey utmost transparency. To collaborate and work together, HCRCPI hold quarterly conference calls to discuss the Healthcare Reform law and to provide insight and guidance into new rules and regulations provided by the U.S. Government.
For more information contact:
Jonathan Edelheit
info@healthcarereforminstitute.com
561-792-4418
Contact
Healthcare Reform Magazine
Daniel Pyne
561-792-4418
www.HealthcareReformMagazine.com

Contact