Flipper Big Button Universal Remote Launches in the United Kingdom and European Union
Flipper Big Button Remote for seniors and elders launches in Europe. Help is on the way for the seniors who watch over 200 hours of TV a month, and their caregivers.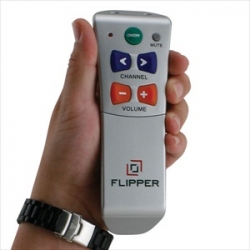 Los Angeles, CA, August 23, 2013 --(
PR.com
)-- Flipper Remote Launches in United Kingdom, European Union.
Popular TV remote control for seniors now functions with EU cable boxes.
Flipper Remote, a popular large button universal remote control for seniors and elders suffering from Alzheimer's, dementia, Parkinson's Disease, low vision and other health conditions, is now available in the United Kingdom and the European Union.
Flipper is currently exclusively available on Amazon.uk at
http://www.amazon.co.uk/
gp/product/B002GR1YZ0
Flipper Remote features the big button format as the North American version, and is now compatible with the devices used in the EU. The remote is designed to allow seniors to easily operate their cable box, and TV and it is compatible with all major brands.
"Customers in the U.S. market have received the Flipper Remote with a great deal of enthusiasm, and now we're very excited to launch this innovative product in the U.K. and all across Europe," said Dan Pitkow, founder of Flipper Remote. "This expansion makes our easy-to-use and highly effective remote control available to more seniors who need it."
The three function Flipper Remote controls the TV and cable or satellite set top box, allowing seniors to turn their TV and cable box on and off at the same time with the press of just a single button. The remote's channel buttons function with the cable box, giving users the ability to easily change channels, while the volume control continues to adjust the levels on the actual TV set.
In addition, the Flipper Remote offers a proprietary "Favorite Channel" option that allows users to program the remote to access up to 25 different channels automatically, helping seniors avoid frustration and eliminating the need to flip around to find desired channels.
"On average, people over the age of 65 watch more than 200 hours of television each month," said Pitkow. "TV is an important link to the outside world for millions of seniors. Flipper giant remote gives people improved control over their television, making it easier for them to operate and find the programming they like."
The Flipper Remote has received an overwhelmingly positive response from U.S. consumers, with more than 175 reviews on Amazon.com, and Flipper has received over 500 seller reviews.
Flipper also serves the low vision, blind, traumatic brain injury and handicapped markets. It increases user independence and allows caregivers to focus on other pressing priorities.
Flipper was designed because the founder's father had Alzheimer's disease and wanted to watch The Golf Channel and could not turn on the TV.
Flipper is currently exclusively available on Amazon.uk at http://www.amazon.co.uk/gp/product/B002GR1YZ0
For more information on the Flipper Remote, go to
http://www.flipperremote.com
Contact
Flipper LLC
Dan Pitkow
310-594-7561
www.FlipperRemote.com

Contact