Visual 2000 Unveils Major PLM and ERP Releases at Global Partner Event
Visual PLM.net V8 and Visual ERP.net V5 promise to help fashion companies gain and sustain a competitive edge with significant advancements in usability, dashboard visualization and reporting, and integration with Microsoft productivity tools.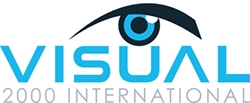 Montreal, Canada, August 26, 2013 --(
PR.com
)-- In conjunction with its recent Global Partner Week event, Visual 2000 International Inc. (
http://www.visual-2000.com
) has released major new versions of its Visual PLM.net® (V5) and Visual ERP.net™ (V8) fashion software. Held earlier this month, the annual business strategy and product road map meeting was attended by Visual 2000 teams and business partners from Australia, Canada, France, United Kingdom, United States, and other countries. In addition to a host of all-new and extended capabilities, the new software releases feature improved usability, expanded dashboard visualization and reporting, and advanced integration with Microsoft® productivity tools.
According to Charles Benoualid, Vice President of R&D, "These new releases represent significant advancements that will enable our clients to meet the fast-changing demands of the global fashion business. As core components of the Visual End-2-End™ fashion IT platform, we continue to make significant investments in our PLM and ERP capabilities and integration to ensure that our clients can achieve and sustain a competitive edge. In doing so, we keep Visual 2000 at the forefront of fashion technology."
To foster greater team and vendor collaboration, Visual PLM.net V5 offers full integration with Microsoft Exchange Server. This enables companies to leverage expanded workflow, calendaring, alerts and notification capabilities in the software through their Microsoft Outlook® software. The leading Product Lifecycle Management solution also gets a host of new Document Management (DOCM) tools that includes optical character recognition capabilities. New Key Performance Indicators (KPIs) that track the number of product iterations, adopted designs, and top sellers to help clients measure their Return on Investment in PLM. The Pantone® color libraries are also now available in Visual PLM.net.
Offering deep integration with the Microsoft Office 2013 suite, Visual ERP.net V8 gets an entirely-new user interface that leverages the familiar ribbon-style menu layout to provide greater visibility and simplify navigation. A new Customer Relationship Management (CRM) module provides automatically triggered event emails and notifications to select clients and team members. Event-triggered automation has been added to allow shipping, Visual WebStore or consumer websites, and other EDI information to be automatically brought into the Enterprise Resource Planning (ERP) system. Visual ERP.net also features expanded built-in dashboard presentation capabilities that can be configured to specific job roles and responsibilities.
Visual 2000 software modules are available as stand-alone systems or natively integrated as part of the Visual End-2-End™ fashion solution. Both of the new releases are now generally available worldwide.
About Visual 2000
Visual 2000 International Inc. develops and markets comprehensive software solutions for the apparel and other fashion-related industries. The company's flagship Visual End-2-End™ Solution combines Product Lifecycle Management (PLM), Enterprise Resource Planning (ERP), Supply Chain Management (SCM), Warehouse Management System (WMS), business intelligence (BI), sales force automation (SFA), customer relationship management (CRM), and E-Commerce (ECOM) capabilities in a single, integrated solution that enables retailers, brands, and manufacturers to gain visibility and control across the entire concept-to-consumer fashion lifecycle.
Visual 2000 products leverage leading-edge Microsoft® technologies such as SQL Server®, .NET® framework, and the Silverlight® development platform. Headquartered in Montreal, Visual 2000 maintains offices and distribution channels in Canada, United States, Europe, and China. For more information, visit http://www.visual-2000.com.
Microsoft, Outlook, Excel, SQL Server, .NET, and Silverlight are either registered trademarks or trademarks of Microsoft Corporation in the United States and/or other countries.
Visual End-2-End, Visual PLM.net, Visual ERP.net, Visual SCM.net, Visual WMS.net, Visual BI.net, Visual EDI.net, Visual SFA.net, and Visual CRM.net and are registered trademarks or trademarks of Visual 2000 International Inc.
Pantone is a registered trademark of Pantone LLC, a wholly owned subsidiary of X-Rite, Incorporated.
Contact
Visual 2000 International
Charles Benoualid
888-386-4006
www.visual-2000.com

Contact