Casa Dorada Los Cabos Celebrates 5 Years of Successful Sea Turtle Conservation Efforts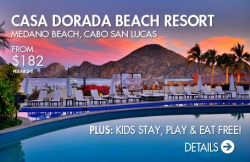 Cabo San Lucas, Mexico, August 26, 2013 --(
PR.com
)-- On August 26th, 2008 Casa Dorada Los Cabos Resort & Spa received and successfully safeguarded their first sea turtle nest. Much to the delight of staff and guests, in October of the same year, a mandate was passed internally to initiate nightly patrols of the entire Cabo San Lucas Bay. Now, five years later, the Casa Dorada Sanctuary Project is stronger than ever, playing an active role in helping to protect turtles coming to nest on Los Cabos beaches.
Casa Dorada on the Forefront of Sea Turtle Conservation
To date, the Casa Dorada Sanctuary Project has protected more than 100,000 turtle eggs and released more than 90,000 offspring into the sea. These efforts have made the Cabo San Lucas Bay and Los Cabos a safe and vitally important nesting area for the olive ridley sea turtle. In 2009 Casa Dorada safeguarded the first leatherback turtle egg ever in the history of the Bay. So far, 390 leatherback eggs have been protected joining the global effort to help this world's largest living sea turtle.
Even though the olive ridley will nest sporadically throughout the year, for those looking to observe this majestic creature, its regular nesting period is from July to October (the release of baby turtles usually takes place in September and October). They normally nest in massive numbers, where thousands of females reach the beach in simultaneous waves; however, this phenomenon doesn't occur in Los Cabos. Mostly solitary, the olive ridley will nest one to three times per season, each time taking up to two weeks to produce approximately 100 eggs that are then incubated for up to 60 days.
Every year, during summer and early fall, families staying at Casa Dorada Los Cabos Resort & Spa are among the lucky ones to witness one of nature's greatest spectacles, sea turtles laying their eggs on the beach at night and weeks later the baby turtles emerging from the nests to scuttle down the beach towards the sea.
Saving the Olive Ridley
With Baja's growing popularity over the past 50 years, regional governments have worked hard to protect this seafaring friend, creating The Los Cabos Sea Turtle Conservation Program. In 2005 many of the community's hotels, resorts, restaurants, and organizations have joined in, creating The Los Cabos Sea Turtle Protection Network. In 2008, Casa Dorada was officially added to this strategic alliance. Shortly thereafter, the Ministry of Environment and Natural Resources granted the hotel federal permission to establish a working nursery for the safekeeping of olive ridley eggs, a privilege extended to only a handful of institutions in the Southern Baja.
A Good Friend Now in Danger
Having taken millions of years to evolve from a land to sea turtle, today the olive ridley is considered an endangered species. Their gradual extinction is primarily due to centuries of over-exploitation, when they have been slaughtered for meat and leather. The illegal harvest of their eggs continues, and there is also high mortality of adults due to coastal fisheries that do not employ turtle-friendly fishing practices.
The olive ridleys are also victims of manmade pollution. They often die of asphyxia after accidentally consuming one of the millions of plastic bags currently polluting the oceans. A clear plastic bag resembles jellyfish—one of olive ridley's main food sources.
Los Cabos: A Vital and Fragile Ecosystem
Seven of the world's eight species of sea turtle nest each year along Mexico's Pacific coasts. With Baja California Peninsula representing a great percentage of these vital grounds, Los Cabos finds itself at the center of an abundance of marine life and fragile ecosystems. Thanks to the watchful eye of local governments and residents, the area is becoming an enclave for sea turtle nesting.
About Casa Dorada
With an incomparable location on Medano Beach--the best swimmable beach of Cabo, Casa Dorada is just steps away from world-class shopping, dining, entertainment, and the marina. As a member of Preferred Hotels & Resorts, a collection of the world's finest independent luxury hotels, Casa Dorada Los Cabos brings the upscale service and family-friendly features to the Cabo San Lucas oceanfront. The Resort grants visitors a more convenient, yet equally spectacular, alternative to the more remote hotel zone of the Tourist Corridor. Boasting unobstructed vistas of Land's End and the famous Arch, Casa Dorada is just 30 minutes away from Los Cabos International Airport. All of the 185 spacious one-, two- and three-bedroom suites and penthouses, open up to Los Cabos' most dazzling ocean view, while the luminous and contemporary interiors ensure your comfort and satisfaction.
Contact
Casa Dorada Los Cabos Resort & Spa
German Herrera
619 849 9177
www.casadorada.com

Contact