eMediaCampaigns! Author, Robert Renteria Donates Curricula to Schools Across the Globe
Latino leader tells teens, at-risk youth secrets for success include hard work, determination and education.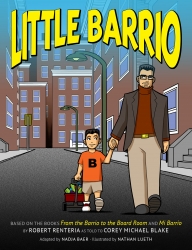 Chicago, IL, September 04, 2013 --(
PR.com
)-- Concerned about the future of youth everywhere, international best selling author and civic Leader, Robert Renteria developed a comprehensive bilingual program designed to bridge the educational gap. He is helping kids around the world by donating a school-based curricula which strongly addresses social and emotional learning (SEL).
Through his 501 (c)(3) From the Barrio Foundation, the author uses the Barrio book series, school-based and faith-based curricula to inspire, motivate, and teach teens and at-risk youth how to make better choices. He says assistance from principals and teachers helped the Barrio movement provide effective teaching tools which promote student achievement.
"Mr. Renteria is our only author who has developed anti-violence and youth initiatives," stated Fran Briggs, eMediaCampaigns!' Director of Operations. "He continues to be recognized for his effectiveness to transcend culture by reaching youth from different backgrounds. To date, more than 200,000 students from 14 countries have received his curriculum."
"With schools focusing and literacy and mathematics, social and emotional learning is mandated but not practiced because it is considered soft learning skills that cannot be measured," explained Renteria. "This is where the big whole and problem is in our cookie cutter. One-size fits all learning environment exists."
The author stressed that many schools are teaching to test, as opposed to teaching to learn. "We are chasing dead presidents solely to get funding. The school systems spend millions of dollars every year on best practices that don't work. So, if its not working then its not best practice, right? Senior brass in education have admitted this to me. Why do they continue to do it? I will tell you, unions, contracts and paychecks."
Robert Renteria says rather than to continue to talk about the problems, statistics, having more marches or holding more panel discussions, he is providing a working book series and program that can be part of the solution to a broken system. The school-based curricula and framework is delivered at no cost to schools, social services, juvenile detention centers, jails, after school programs and youth-based organizations throughout the United States and abroad.
Renteria added, "Gang-banging and violence is not a lifestyle, but a 'deathstyle'. We have a multitude of cases where kids go back to schools, get better grades, go on to college, get out of gangs and turn their lives around. Also, parents have become more responsible. The curricula teaches our multicultural world that it is not about age, religion or economic background. It's about one race--the human race. Our kids don't know color, they know love. Barrio teaching tools help reach kids academically, as well as help them address violence in their communities."
To learn more about The Barrio Foundation or how to request free curricula, please visit the Barrio website at: http://www.fromthebarrio.com, email robert@fromthebarrio.com, or call 312-933-5619. For speaking engagements, contact eMediaCampaigns!, Fran Briggs, 206.279.0818.
Contact
eMediaCampaigns!
Fran Briggs
206.279.0818
http://www.franbriggs.com

Contact