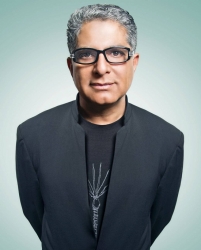 Las Vegas, NV, September 05, 2013 --(
PR.com
)-- Wild Divine, the leading innovator of feedback driven user technology, announced today that it has opened registration to its upcoming Secrets of Meditation Retreat to be led by Dr. Deepak Chopra. The online two-week retreat will commence on October 7, 2013 and is being offered by Wild Divine at no charge to all who register.
"The Secrets of Meditation Retreat features all new completely original content," said Kyle Widner, president and CEO of Wild Divine. "This unique experience is suitable for anyone no matter what your level of meditative practice. And you'll be guided through it by Dr. Deepak Chopra, one of the most inspirational mind-body experts of the century."
"Join us and start the journey of integration between your body, your mind, your spirit," said Dr. Deepak Chopra, CEO and Founder of the Chopra Center for Well Being. "And ultimately change your relationships through this in a nurturing manner, change your environment so it becomes nurturing to you and change your experience of the world."
You can access the retreat via your computer or mobile device. Registration for this free event is easy and quick. Simply use your e-mail address or Facebook account to sign up here http://www.mentorschannel.com/WildDivine/SecretsofMeditation/LandingPage/&af=589.
About Wild Divine
Founded in 2001, Wild Divine is a pioneer in the emerging lifestyle technology market. The company is committed to designing and developing unique whole-body relaxation training programs that help people reduce feelings of stress and live happier and more balanced lives. The Wild Divine Software Platform and its interface, the iom, is the world's only "Active Feedback" system - one of the most revolutionary product platforms to come out to assist in understanding and exploring the mind-body-spirit connection. Wild Divine's relaxation training products artfully combine state of the art technology with beautiful visuals, soothing sounds and effective meditation and breathing techniques to help uncover the body's natural ability to counter the effects of stressful situations, increase its energy level, restore balance and improve the ability to connect to the world in profound ways. For more information, visit www.wilddivine.com.