Just Me Magazine, Inc. One Year Celebration
Celebrating one year of business. Looking to expand company portfolio in areas of newtwork marketing.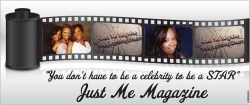 Chicago, IL, September 08, 2013 --(
PR.com
)-- Just Me Magazine Celebrates its One Year Anniversary This October: The Online Magazine to Donate 10% of Ticket Proceeds Going to the Motivated Awareness & Stop the Violence Foundations
Just Me Magazine is pleased to announce their first anniversary arrives this October. The online magazine is throwing an anniversary celebration for over 100 guests, with 10% of the ticket proceeds donated to the Motivated Awareness and Stop the Violence Foundations. The anniversary event will kick off Just Me Magazine's new focus on monthly networking events. These events will assist business owners, entrepreneurs and musical artists, aiding them with the information they need to improve their business or craft, and will mark the beginning of the expansion of Just Me Magazine.
Created by Alice Boswell, Just Me Magazine gives small businesses, entertainers and individuals the chance to shine. The magazine's motto is "You don't have to be a celebrity to be a STAR!" and Just Me Magazine demonstrates this with their mix of compelling stories and features of everyday people. The magazine is offered free to both visitors and individuals featured in the issues. Advertising costs are set at affordable rates in line with a small business' marketing budget. Just Me Magazine has featured articles about family, health, legal issues and more. Their goal is to be entertaining, informative and enjoyable for all, while helping the individuals within.
The one year anniversary celebration for Just Me Magazine will be held October 25, 2013 at 7:00 P.M at Ravens Place – Ultra Lounge. The event will feature live music, food, raffles and more. Gift bags will be given to the first 50 attendees, and the attendees must be age 30 and up. Tickets are available now at http://www.brownpapertickets.com/event/447968. The magazine staff and writers look forward to celebrating this anniversary and many to come with the Just Me Magazine community. The magazine recently commemorated their anniversary with a commercial available for viewing at http://youtu.be/Bx2jGTlpHaA
Just Me Magazine is currently seeking sponsors for the anniversary event to contribute $3,500 to the celebration. This amount ensures sponsors have ample opportunity to promote their business to approxmiately 100-150 guests. All sponsors receive five tickets to the event.
For more information, please visit http://justmemagazine.com
Contact: Alice Y. Boswell
(630) 455-5593
aboswell@justmemagazine.com
Contact
Just Me Magazine, Inc.
Alice Boswell
630-455-5593
http://www.justmemagazine.com
Email: aboswell@justmemagazine.com

Contact