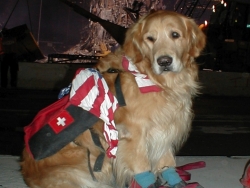 Montclair, NJ, September 10, 2013 --(
PR.com
)-- Premiering in the United States on Tuesday, September 10 at 8pm ET/PT Animal Planet is airing Hero Dogs Of 9/11, a one-hour documentary special that chronicles the legacies of working dogs at Ground Zero.
Featured in the documentary is Frank Shane from Montclair, N.J. Founder of K-9 Disaster Relief, he worked for nine months on Ground Zero with his partner Nikie, a certified Disaster Relief Canine. The program includes Nikie and pays tribute to all the unheralded dogs that were part of the rescue and recovery efforts. A stoic 120-pound golden retriever, Nikie enabled Shane to help rescue and recovery workers who needed psychological and emotional support. According to Shane, "a dog immediately develops emotional bonds with those suffering from psychological trauma during times of unfathomable grief." Shane is nationally recognized as a canine counselor and is a board certified expert in crisis intervention and traumatic stress. His work has been featured in several books, including 9/11: Stories Of Courage, Heroism And Generosity And Hero Dogs: Courageous Canines In Action. He is producer of Animal Bond Radio's "The Talk of Animals" and is Executive Director of an upcoming broadcast special on the Human Animal Bond.
Hero Dogs OF 9/11 also features Shane's new canine partner "Chance" who helped the children and victim families in the aftermath of the Newtown Sandy Hook Elementary School shootings. Like Nikie, Chance provided love and affection during times when there are no words to describe such horrific events. Dogs are accepted as loving non-judgmental animals. They are able to communicate through kindness and unconditional love. Hero Dogs Of 9/11 was developed and produced by Tanya Kelen, Executive Producer & CEO of Kelencontent.
Contact:
Frank Shane 973-563-1291
info@K-9DisasterRelief.org
About K-9 Disaster Relief:
 The non-profit organization brings to bear combined resources and expertise in trauma and crisis intervention to meet the immediate and ongoing psychological needs of victims in crisis. (
http://www.k-9disasterrelief.org
) The humanitarian organization's mission is to help traumatized victims of a disaster or critical incident through canine crisis intervention. This is achieved with handlers trained in Canine Disaster Relief Services. The organization provides courses, workshops and seminars.
www.K-9DisasterRelief.org