Spa Logic Pop Up Salon in Dupont Circle Park
A Community Day of Music and Salon Fun To Benefit Locks of Love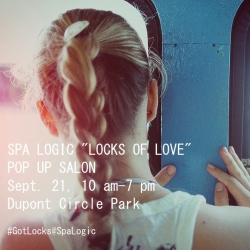 Washington, DC, September 12, 2013 --(
PR.com
)-- Join the talented team of Spa Logic salon for a special community day "pop-up" salon event to benefit Locks of Love in Dupont Circle Park, Sat. Sept. 21, 10 a.m.–7 p.m. The salon will be accepting hair donations of at least 10 inches or more and offering hair-cutting services for a $15 donation.
Locks of Love is a public non-profit organization that provides vacuum fitted hairpieces to financially disadvantaged children suffering from long-term medical hair loss from any diagnosis. They meet a unique need for children by using donated human hair to create the highest quality hair prosthetics. Most of the children helped by Locks of Love have lost their hair due to a medical condition called alopecia areata, which has no known cause or cure. Others have suffered severe burns or injuries or endured radiation treatment to the brain stem or other dermatological conditions that result in permanent hair loss. The vacuum fit is designed for children who have experienced a total loss of scalp hair and does not require the use of tape or glue. The prostheses they provide help to restore self-esteem and confidence, enabling these children to face the world and their peers. www.locksoflove.org.
The organization, which began operation in 1998, provides the prostheses to children under age 21. These hairpieces require between 6-10 ponytails and take approximately 4-6 months to manufacture. Thousands of bundles of donated hair arrive as a result of the national publicity that Locks of Love receives in newspapers, magazines, and television programs. It is estimated that children comprise over 80 percent of the donors, making this a charity where children have an opportunity to help children.
Event Registration
Donations will be taken in two ways:
- Hair donations: minimum length must be at least 10 inches measured tip to tip. See guidelines for acceptable donations: http://www.locksoflove.org/donate.html
- Hair cut: $15 min. donation; tax deductible (No styling services will be offered.)
- Registration is taken on a first-come, first-served basis. All registrants will be asked to fill out a donation form. Pre-register here: http://bit.ly/19CvSy4
Location: Dupont Circle Park, Washington, DC (across from Starbucks and Dupont Circle Hotel); Metro: Dupont Circle
Event Hashtag: #GotLocks@SpaLogic
Facebook Event: http://on.fb.me/18qEmak
Notes To Editors
About Spa Logic:
Spa Logic is a full-service hair and beauty salon located in Washington D.C.'s Dupont Circle. Our talented stylists offer top professional services ranging from haircuts, styling, coloring, chemical and Keratin treatments to updos, blowouts and more. We also specialize in cosmetic tattooing, eyelash extensions, nail and pedicure services, massage therapy, waxing services, and makeup for special events, weddings, parties, and corporate events.
www.spalogicdc.com | info@spalogicdc.com | ph. 202.232.6475 |1721 Connecticut Ave. NW, Washington, D.C., 20009
Contact
Minnianda Creative Agency
Amanda M. Williams/Guilaine K. Omanda
202.417.7739
www.minnianda.com
Salon Owner: Kathy Luu
Spa Logic Salon
1721 Connecticut Ave NW
Washington, District of Columbia
20009
www.spalogicdc.com
(202) 232-6475

Contact