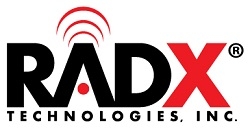 Schaumburg, IL, September 16, 2013 --(
PR.com
)-- LibertyGT SDSI Solutions Combine RADX Realtime Measurement Science Software and Firmware with NI PXI and LabVIEW Platforms to Address High Performance Wireless, RF and Microwave Measurement and Test Applications
RADX® Technologies, Inc. ("RADX"), through a collaboration with National Instruments, introduced the RADX LibertyGT™ family of commercial, off-the-shelf (COTS) Software Defined Synthetic Instrument (SDSI) solutions today at AUTOTESTCON 2013. LibertyGT solutions combine RADX COTS Realtime Measurement Science Software and Firmware modules with pre-configured NI PXI systems and NI LabVIEW system design software for application development. RADX and NI are demonstrating the LibertyGT SDSI Model 1000R PXI with the LibertyGT SDSI Spectrum Analysis Software Module in the NI booth (No. 207) at AUTOTESTCON 2013.
"LibertyGT is the first RF instrument family that realizes the promise of COTS software-defined synthetic instrumentation by preserving independence between the hardware and the measurement science software, while not compromising on scalability, modularity, technology insertion, precision, realtime measurement performance and overall value," said Ross Q. Smith, RADX co-founder and CEO.
"The LibertyGT Reference Platform Program has unique benefits in test and measurement applications requiring repeatable, reproducible test results with high throughput. These are essential for commercial wireless programs and DoD communications, radar, and other mission critical applications," added Wade Lowdermilk, RADX co-founder and CTO. "By deploying RADX Realtime Measurement Science with Channelization on pre-configured, modular NI PXI systems, we can provide assured performance while supporting the value proposition that comes from COTS solutions."
Designed for system integrator and volume end-user applications, LibertyGT solutions consist of RADX COTS Measurement Science Software and Firmware modules and NI PXI systems equipped with LabVIEW. Additionally, RADX software leverages patented and patent-pending realtime synthetic instrumentation technology licensed exclusively from BAE Systems. The LibertyGT Model 1000 Reference Platform addresses single channel applications up to 6 GHz, while the LibertyGT Model 2000 Reference Platform addresses dual channel applications up to 26.5 GHz.
"Our collaboration with RADX on LibertyGT clearly illustrates the value of the NI Alliance Partner Network community," said Christer Ljungdahl, director of aerospace and defense for the Americas at National Instruments. "The combination of NI modular instrumentation with RADX advanced measurement science results in a cost-effective and future-proof family of COTS measurement and test solutions. Our mutual customers can rapidly exploit LibertyGT systems to bring new device testing capabilities to market in record time and at previously unattainable price points."
For additional information or to arrange a demo at AUTOTESTCON 2013, please email
info@radxtech.com
or contact John Wagner, RADX VP of Sales, at johnwagner@radxtech.com or +1 (765) 481-1430.
About RADX
RADX Technologies, Inc., is a DSP-focused technology start-up that provides a wide range of cost-effective, high-performance, COTS products, technologies, software, solutions and services to end-users, OEMs and system integrators at multiple levels of integration. As both a National Instruments Silver Alliance Partner with RF and Wireless Specialty Alliance Partner designation and a Xilinx Alliance Partner, RADX has a solid team of seasoned experts with decades of experience developing advanced FPGA, multi-core, and GPU-based DSP COTS solutions for consumer, commercial, aerospace, and defense applications in Software Defined Synthetic Instrumentation (SDSI), Software Defined Radio (SDR), Cognitive Radio (CR) and other high-performance communications-related applications. For more information on RADX, please visit
www.radxtech.com
or email
info@radxtech.com
.
About National Instruments
Since 1976, National Instruments (www.ni.com) has equipped engineers and scientists with tools that accelerate productivity, innovation and discovery. NI's graphical system design approach to engineering provides an integrated software and hardware platform that speeds the development of any system needing measurement and control. The company's long-term vision and focus on improving society through its technology supports the success of its customers, employees, suppliers and shareholders.
LibertyGT includes technologies licensed exclusively by BAE Systems to RADX that are protected by U.S. Patents numbered 8164498 and 8514919 and other pending patents. RADX is a registered trademark and the RADX logo, LibertyGT and the LibertyGT logo are trademarks that are the property of RADX Technologies, Inc. National Instruments and LabVIEW are registered trademarks that are the property of National Instruments, Inc. BAE Systems is a registered trademark of BAE Systems, Inc. Xilinx is a registered trademark of Xilinx, Inc. All other trademarks are the property of their respective owners.