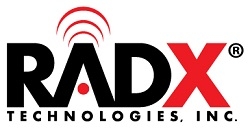 Schaumburg, IL, September 16, 2013 --(
PR.com
)-- RADX to Incorporate BAE Systems' Patented Realtime Synthetic Instrument Technology into LibertyGT COTS Software Defined Synthetic Instrument Solutions for High Performance, Realtime Wireless, RF and Microwave Measurement and Test Applications
RADX® Technologies, Inc. ("RADX") announced today at AUTOTESTCON 2013 that it has entered into an exclusive license agreement with BAE Systems to incorporate its Realtime Synthetic Instrument ("SI") technology into RADX's Commercial, Off-the-Shelf (COTS) Realtime Software Defined Synthetic Instrument (SDSI) solutions for high performance wireless, RF and microwave measurement and test applications. BAE Systems is a leading provider of SI technology for advanced Automatic Test Equipment (ATE) programs used in commercial and military and aerospace applications. The first RADX COTS products to include the BAE Systems SI technology are the RADX LibertyGT™ Family of COTS, Realtime SDSI Solutions, also announced today at AUTOTESTCON 2013 (see
www.radxtech.com/press/RADX_and_NI_Introduce_LibertyGT_SDSI_at_ATC_2013
).
"BAE Systems has been both an innovative developer of SI technology and a large scale integrator of SI-based ATE systems for the past decade," said Wade Lowdermilk, RADX co-founder and CTO. "RADX is elated to have been awarded this valuable technology license from BAE Systems and all of us at RADX will work hard to help realize BAE Systems' long term objective of seeing their SI technology commercialized in the broader COTS marketplace. We look forward to a long and prosperous relationship with BAE Systems that will benefit both companies and our respective Measurement and Test customers in both the commercial and the mil-aero market."
The LibertyGT Family of COTS SDSI Solutions combines RADX COTS Realtime Measurement Science Software and Firmware modules, which includes the patented and patent-pending realtime SI technology licensed from BAE Systems, with pre-configured National Instruments ("NI") PXIe and LabVIEW® based COTS Reference Platforms and modules for application development, which may then be specifically tailored for volume deployment. RADX and NI are demonstrating the LibertyGT SDSI Model 1000R Reference Platform and RADX LibertyGT SDSI Spectrum Analysis Module, which together are optimized to measure and test RF, microwave and wireless communications systems with frequencies up to 6 GHz, in the NI Booth (No. 207) at AUTOTESTCON 2013.
About RADX
RADX Technologies, Inc., is a DSP-focused technology start-up that provides a wide range of cost-effective, high-performance, COTS products, technologies, software, solutions and services to end-users, OEMs and system integrators at multiple levels of integration. As both a National Instruments Silver Alliance Partner with RF and Wireless Specialty Alliance Partner designation and a Xilinx Alliance Partner, RADX has a solid team of seasoned experts with decades of experience developing advanced FPGA, multi-core, and GPU-based DSP COTS solutions for consumer, commercial, aerospace, and defense applications in Software Defined Synthetic Instrumentation (SDSI), Software Defined Radio (SDR), Cognitive Radio (CR) and other high-performance communications-related applications. For more information on RADX Technologies, please visit
www.radxtech.com
or email
info@radxtech.com
. For more information on LibertyGT, or to arrange a demonstration at AUTOTESTCON 2013, please email info@radxtech.com or contact John Wagner, RADX VP of Sales, at johnwagner@radxtech.com or +1 (765) 481-1430.
LibertyGT includes technologies licensed exclusively by BAE Systems to RADX that are protected by U.S. Patents numbered 8164498 and 8514919 and other pending patents. RADX is a registered trademark and the RADX logo, LibertyGT and the LibertyGT logo are trademarks that are the property of RADX Technologies, Inc. National Instruments and LabVIEW are registered trademarks that are the property of National Instruments, Inc. BAE Systems is a registered trademark of BAE Systems, Inc. Xilinx is a registered trademark of Xilinx, Inc. All other trademarks are the property of their respective owners.