Poker Face: Masquerade Ball at the Ritz-Carlton Raises Money for Local Charities October 25
Presented by Lodestone Real Estate, event will feature casino-themed games and silent auction with proceeds going to three Charlotte-based non-profits.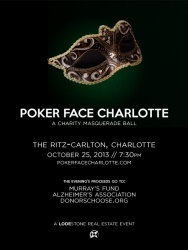 Charlotte, NC, September 17, 2013 --(
PR.com
)-- Charlotte-based brokerage Lodestone Real Estate will host their first annual charity gala, Poker Face Charlotte, on Friday, October 25, 2013, from 7:30 p.m. to 11:00 p.m. at The Ritz-Carlton, Charlotte.
Gala guests will enjoy casino-themed games, raffle and a luxury-filled silent auction, set against the backdrop of city views from The Ritz-Carlton's Great Room. Tickets are $50 until October 15 after which prices will increase to $75. A 10% discount is available for group purchases of ten tickets or more. Guest can RSVP and purchase tickets at
pokerfacecharlotte.com
.
Proceeds from the night's festivities will go to support three local non-profit organizations—Alzheimer's Association (Western Carolina Chapter), DonorsChoose.org and Murray's Fund. The charities were handpicked by the Lodestone team based on personal experience with the essential services these organizations provide to the Charlotte community.
"We couldn't be more excited about this event," said Lodestone Owner Marissa Boyle. "More than just living and working in Charlotte, we strive to invest in the community at large. The gala gives us a chance to highlight causes that have touched the lives of the Lodestone team personally and have a great time while doing it."
In keeping with the evening's masquerade theme—and to help everyone maintain their poker face at the game tables—guests are encouraged to wear their favorite mask. Masks will also be available at the event, including more elaborate designs for purchase.
Heavy hors d'oeuvres and desserts will be served, and each ticket includes two drink tickets for a cash bar. Valet parking and "casino chips" that can be exchanged for raffle tickets are also included in the price of admission.
For more information, visit
pokerfacecharlotte.com
. If interested in becoming a sponsor or silent auction contributor, please contact Meredith Richmond at meredith@lodestonerealestate.com
Poker Face Charlotte Details
Date: Friday, October 25, 2013, 7:30 p.m. to 11:00 p.m.
Location: The Ritz-Carlton, Charlotte, 201 East Trade St., Charlotte, NC 28202
Tickets: $50 for tickets purchased by October 15. $75 for tickets purchased after October 15 or at the door. 10% discount for groups of ten or more. Purchase tickets at
pokerfacecharlotte.com
.
Dress: Cocktail attire and masks. (Masks will also be available at the event.)
Parking: Valet parking at The Ritz-Carlton, Charlotte included in price of admission.
Sponsors: Poker Face Charlotte is presented by Lodestone Real Estate and generous sponsors Wishart Norris Henninger & Pittman, Barrister's Title Services, Appalachian Title & Settlement Service, Oakmont Home Builders and Superior School of Real Estate.
About Lodestone Real Estate
Lodestone is a modern real estate brokerage based in Charlotte, North Carolina, energized by an experienced team of Realtors who think differently and who consider every buyer and seller to be an investor. Melding the modern, data-driven world of Wall Street with the single family home on Main Street, Lodestone specializes in residential real estate sales, including renovations and specialty government programs. For more information, go to
lodestonerealestate.com
.
Event proceeds will go to the following non-profits:
Western Carolina Chapter of the Alzheimer's Association
The Alzheimer's Association is the premier source of information and support for the 5.4 million Americans with Alzheimer's Disease and related disorders. The national organization was founded in 1980 as a non-profit organization and is the largest private supporter of Alzheimer's research. The Western Carolina Chapter provides patient and family services, information and referral, education and advocacy in the 49 western North Carolina counties. Find more information at www.alz.org/northcarolina.
Murray's Fund
Murray's Fund is a non-profit organization that provides financial assistance to pet owners who do not have the financial resources to treat their pet's cancer. Based out of Carolina Veterinary Specialists, Murray's Fund was founded by veterinary oncologist Dr. Claudia McFadden and her husband Bryan.
DonorsChoose.org
DonorsChoose.org is an online charity that makes it easy for anyone to help students in need. Public school teachers from every corner of America post classroom project requests on their site, and donors can give any amount to the project that most inspires them. Part of the proceeds from Poker Face Charlotte will go through DonorsChoose.org to help Belleview Elementary, a Title I school in Rock Hill, South Carolina. The funds will help provide snacks, school supplies, art materials and other essential items for children in need. Find more information at www.donorschoose.org.
Contact
Speak Your Design
Jessica Thomas
704-999-7300
speakyourdesign.com

Contact