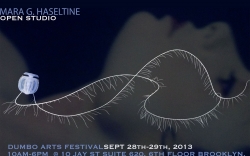 New York, NY, September 19, 2013 --(
PR.com
)-- DUMBO, Brooklyn (September 27-29, 2013) –- Internationally renown environmental artist Mara G. Haseltine, her open studio and work in progress: "La Bohème: A Portrait of Today's Oceans in Peril" is part of the DUMBO Arts Festival: 10 Jay St, Suite 620 (6th floor) September 28th-29th, Saturday and Sunday 10am-6pm.
Taking place amid the breathtaking backdrop of the Brooklyn Bridge and the Manhattan skyline, The DUMBO Arts Festival is a global showcase for the best in local, national, and international art drawing over 200,000 people. A centerpiece of this year's popular open studios schedule, will be Mara G Haseltine's, "La Bohème: A Portrait of Today's Oceans in Peril".
For this occasion the artist's studio will mimic the complex world that the artist sees when she is looking through the microscope. Bathed by black lights, the plankton inspired sculptures gleam in exquisite contrast with the rough plastic they cling to. The viewers will enter into a world where the fantastical forms of plankton and the pollution, form a dramatic portrait of today's microscopic ocean. A minuscule world threatened by pollution.
Plankton plays a crucial role in regulating our planet's atmosphere, creating half of the world's oxygen. The artist's plankton sample collection captured in oceans throughout the world, revealed an alarming truth. Not only did the samples contain the delicate otherworldly forms of plankton but also shreds of sunlight-degraded plastic. This discovery inspired a series of sculptural depictions of oceanic plankton entwined with plastic, that demonstrate that our fate is intimately linked with that of our oceans.
Throughout the open studio a preview for the film "La Bohème: A Portrait of Today's Oceans" will be presented. Depicting the poor young poet Rodolfo, who falls in love with Mimi, a young grisette who is dying of consumption. In this case, Mimi is the plankton sculpture ensnared in plastic -- a representation of our ailing oceans. The performance intends to highlight the close relationship between humans and the health of the microscopic world, in particular our oceans. The Preview short film of "La Bohème: A Portrait of Today's Oceans" had its world premier at the agnès b. gallerie at 50 Howard St, NY, NY, co-directed by Imagine Science Film's Alexis Gambis, last March.
The work along with a performance by Joseph Bartning of the Salzburg Opera Festival will be showcased at this fall during the Imagine Science Film Festival October 13th-18th.
For further information information on Mara G Haseltine's open studio visit:
http://dumboartsfestival.com/2013/exhibition/mara-g-haseltine
Mara G. Haseltine is an internationally renowned artist known for her sculptural renditions of microscopic life forms. She was an early pioneer in the translation of bioinformatics into three dimensional forms. She is an ardent environmentalist and co-founder of The Green Salon, an international think tank devoted to environmental solutions. For further information, visit her website at
http://www.calamara.com
To find out how you can protect the high seas watch this video! "Vive La Haute Mer!" -
https://vimeo.com/67703544