Dr. Pawel Woelke Attends Prestigious NAE Frontiers of Engineering Symposium
Eighty-one of the nation's brightest young engineers were chosen to attend this year's National Academy of Engineering event. Woelke leads a Weidlinger team set to launch unprecedented fracture-quantification software.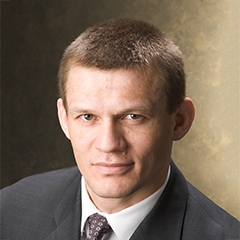 New York, NY, September 21, 2013 --(
PR.com
)-- Dr. Pawel Woelke, a senior associate of Weidlinger Associates, Inc., was invited to participate in the 19th annual U.S. Frontiers of Engineering Symposium of the National Academy of Engineering (NAE), sponsored by DuPont, the Grainger Foundation, the Defense Advanced Research Projects Agency, the National Science Foundation, Microsoft Research, and Cummins Inc. It was held on September 19-21, 2013, at the Hotel du Pont in Wilmington, Delaware. Two other Weidlinger principals—Dr. Anurag Jain, PE, and Peter DiMaggio, PE, SECB—have attended recent symposiums, and six principals have been members of the National Academy of Engineering.
The Frontiers of Engineering program brings together a select group of emerging engineering leaders from industry, academia, and the government to discuss pioneering technical work and leading-edge research. Its long-term goals are to facilitate collaboration and the transfer of new techniques and approaches across fields and to establish relationships among the next generation of engineering leaders. This year's symposium focused on developments in Designing and Analyzing Social Networks, Cognitive Manufacturing, Energy: Reducing our Dependence on Fossil Fuels, and Flexible Electronics.
"The synergy of applied science research and structural engineering practice has been responsible for Weidlinger's success for more than 60 years," said Raymond P. Daddazio, the firm's president and chief executive officer. "Pawel is an ideal choice, not only for his unprecedented research in fracture mechanics, but also because of his enthusiasm for new ideas and challenges."
Woelke seized the opportunity, in his words, "to gain a broader perspective on the state of the art in science and engineering and to discern how Weidlinger's future research can profit from overall trends." Upon receiving the invitation, he commented, "I am looking forward to the stimulating environment of the symposium and to being exposed to some of the brightest minds in the country."
Woelke leads a Weidlinger team exploring the rigorous science that is required for quantification of fracture initiation and propagation as it relates to safety and life-cycle sustainability. This research was undertaken in collaboration with the U.S. Navy, as well as leading academicians in the field of solid and fracture mechanics, including Dr. John W. Hutchinson, Abbott and James Lawrence Research Professor of Engineering at Harvard University. WAImat Suite, a trio of software modules that resulted from these studies, is used by Weidlinger engineers to predict ductile fracture, creep, and fire-induced deformation and failure in metal structures. The beta version of the software will be released on the Dassault Systemes Simulia Abaqus platform to select clients for testing and evaluation in late fall 2013. Woelke hopes to capture significant market share for the solution of essential engineering failure problems with its release, as there is no comparable commercial product at this time.
Users of WAImat Suite will profit from the availability of Weidlinger engineers for consultation and upgrades that reflect ongoing research and software development, which has been supported by several Small Business Innovative Research (SBIR) and Technology Transfer (STTR) awards.
Dr. Pawel Woelke has published more than 50 papers on computational mechanics and constitutive modeling of solids and structures. In 2008, Woelke coauthored Elasto-Plastic and Damage Analysis of Plates and Shells with Dr. George Z. Voyiadjis, professor of civil engineering at Louisiana State University, which details a new comprehensive theory for predicting failure in a wide range of structures modeled as shells, plates, and beams. The book is dedicated to Maciej P. Bieniek, a Polish scientist and engineer who, for many years, taught at Columbia University (retiring as Renwick Professor Emeritus in 1993), where he was Dr. Voyiadjis's advisor.
Woelke's work encompasses both vulnerability studies and analysis and design to mitigate the effects of extreme loads on bridges, tunnels, and buildings, as well as naval ships and aircraft and other structures. Woelke received a PhD from Louisiana State University, Baton Rouge; MSc from Imperial College, London; and MEng from Poznań University of Technology, Poland. Since 2009, he has been working as an adjunct assistant professor in the Civil Engineering and Engineering Mechanics department at the Fu Foundation School of Engineering and Applied Science, Columbia University.
The National Academy of Engineering's (NAE) mission is to advance the well-being of the nation by promoting a vibrant engineering profession and by marshaling the expertise and insights of eminent engineers to provide independent advice to the federal government on matters involving engineering and technology. The NAE is part of the National Academies (along with the National Academy of Sciences, the Institute of Medicine, and the National Research Council), an independent nonprofit organization chartered by Congress to provide objective analysis and advice to the nation on matters of science and technology. Its annual symposium attendees are engineers from industry, academia, and government, ages 30 to 45, who are performing exceptional engineering research and technical work in a variety of disciplines. For more information on the Frontiers of Engineering Program, visit
www.naefrontiers.org
.
Weidlinger Associates, Inc., is a structural engineering firm that designs and rehabilitates buildings, bridges, and infrastructure and provides special services in applied science, forensics, and physical security. The firm is recognized worldwide for its innovative and practical design solutions and for its long-term commitment to advancing the state of the art in applied science and engineering. In the area of applied mechanics, Weidlinger maintains a rich portfolio of projects in specialized practice areas. Much of this work focuses on applied science R&D and software development to address challenging defense and industrial problems for clients in the U.S. Navy and U.S. Air Force, as well as the aerospace and automotive industries. The company, which celebrated its 60th year in 2009, employs about 300 full-time staff; it is headquartered in New York City and has branch offices in the United States and the United Kingdom. For more information, please see
www.wai.com
.
The Small Business Innovation Research (SBIR) and Small Business Technology Transfer (STTR) programs encourage research by U.S. high-tech companies with fewer than 500 employees. SBIR grants were first awarded in 1982, and STTR grants, requiring collaboration with an academic institution, in 1992. Commercial viability is an important consideration in choosing the projects to receive the Phase I, II, and III grants, which are funded by fixed percentages of 16 federal agency budgets. Since the late 1980s, Weidlinger has been awarded more than three dozen Phase I grants, sponsored by the U.S. Navy, Air Force, Defense Advanced Research Projects Agency, and Department of Energy, with many projects receiving subsequent funding.
Contact
Weidlinger Associates, Inc.
Jaime Strohmenger, LAK Public Relations, Inc.
212-575-4545
www.weidlinger.com
JStrohmenger@lakpr.com or Mollie Fullington, mfullington@lakpr.com

Contact