Newman Village Kids to Aid Children's Medical Center with Third Annual "Lemon Aid" Event
Frisco Community Hosts "Lemon Aid" Event on Sept. 22 to Benefit The Children's Medical Center's "Change for Children's" Program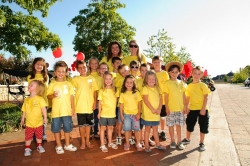 Dallas, TX, September 20, 2013 --(
PR.com
)-- The kids of Frisco's premier master-planned community, Newman Village, are affecting big change for the Children's Medical Center this year by attempting to raise as much change as they can during their Third Annual "Lemon Aid" Stand event in the Dallas suburb.
Ice cold, sweet and tangy lemonade as well as baked goods will be for sale at each stand, personally decorated by the children selling the treats. All proceeds will benefit the Children's Medical Center's "Change for Children's" program.
The fund raiser will run from 1 to 3 p.m. in the Newman Village Central Plaza, located at 4131 Fallbrook Drive in Frisco.
The Children's Medical Center is one of the nation's largest, not-for-profit healthcare providers. More than 400,000 patients are treated and cared for at the center each year. The Change for Children's program not only provides world-class healthcare to these kids, but also makes their time in the hospital easier by funding birthday parties, offering opportunities to meet clowns and to have fun with animals.
More than 25 Frisco families are involved in the "Lemon Aid" stand this year, which doubled its proceeds in 2012. Newman Village hopes to affect even bigger change and raise more money this year.
"In the past two years we've raised a significant amount of money for the Change for Children's program," said Christen Brown. "The kids are really excited to surpass that amount this year. When they see a big turn out, they really light up. They know they're raising money for a program that benefits kids just like them."
In addition to Newman Village, sponsors include Crane Health Mart Pharmacy, TMG Sportswear, Market Street, Raising Cane's, Rendon Orthodontics and Legacy ER & Urgent Care.
For more information on Newman Village, please visit www.newmanvillage.com.
About Darling Homes
Headquartered in Scottsdale, Arizona, Darling Homes is part of Taylor Morrison Home Corporation. Darling Homes serves a variety of consumers from move-up to luxury homebuyers in Texas. Taylor Morrison is a builder and developer of single-family detached and attached homes serving a wide array of customers including first-time, move-up and active adult customers. Taylor Morrison divisions operate in Arizona, California, Colorado, Florida and Texas. Monarch, Canada's oldest homebuilder, builds homes for first-time and move-up buyers in Toronto and Ottawa as well as high rise condominiums in Toronto. For more information about Taylor Morrison, Darling Homes or Monarch, please visit www.taylormorrison.com, www.darlinghomes.com and www.monarchgroup.net.
Contact
Darling Homes
Al Stevens
(480) 648-1770
www.darlinghomes.com

Contact