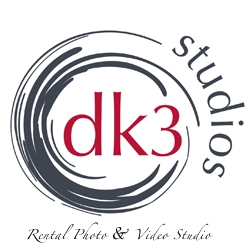 San Diego, CA, September 21, 2013 --(
PR.com
)-- Rental Photo/video Facility dk3 studios LLC Announces Expansion
dk3 studios LLC has announced an expansion of its rental photo and video studio facility. dk3 studios is a reasonably priced, fully equipped rental photography and video facility in Mira Mesa.
Until now dk3 studios has focused its efforts on meeting the needs of businesses and entrepreneurs who recognize that it is critical to have professional and detailed images to sell their products. Complete with an infinity wall, a dozen powerful strobes, radio triggers and a private dressing room, dk3 provides everything commercial clients need to make professional images.
The newly expanded space, dubbed Studio V at dk3, caters more toward advanced amateur photographers who enjoy having props and sets available for shoots where the subject is the key element. Amateur and semi-professional photographers now have a choice of a pure white set for professional shoots, or a space with sets, props and ambient lighting to create unique images.
Clients of dk3 studios range from major corporations to small startups. "We have a major medical device company who shoots here regularly. Our smaller clients include emerging businesses with products including strollers, tents, clothing and fashion of all types, jewelry, you name it,"" said Dave King, President of dk3 studios, adding, "we even had a 17 foot albino boa constrictor in here for a shoot." King continued, "Commercial shoots are all about the product and not about the model or photo subject. Now photographers of all skill levels have more options when the focus is on the photo subject and not on a product."
"Promotional budgets just aren't what they used to be and yet a professional product image can determine a product's success or failure for web and print based sales. That is exactly why we opened dk3 studios," King said. He added, "this expansion now gives us space to offer choices for a wider range of photographers."
For more information please see
dk3studios.com
.
About dk3 studios LLC
Dk3 studios LLC is a fully-equipped rental photo studio in San Diego. Dk3 offers use of up to a dozen powerful strobes to help you create professional product images, fashion photos and portraits in a professional and private environment. Rates are affordable and include everything except a DSLR camera and lens. Convenient to all major interstates and with plenty of on-site parking, dk3 studios is the professional's choice.
Contact:
Dave King
dave@dk3studios.com
858.848.5464