CFIRA Celebrates Implementation of Title II Jobs Act While Urging Caution to Issuers; CrowdFund Intermediary Regulatory Advocates Offers Best Practices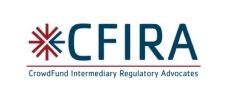 New York, NY, September 23, 2013 --(
PR.com
)-- With the lifting of the longstanding ban on general solicitation by the U.S Securities and Exchange Commission today, CrowdFund Intermediary Regulatory Advocates (CFIRA) celebrate a significant provision of the JOBS Act going into effect while urging investors and businesses to approach the new fundraising environment with caution.
"The new rules give small businesses and high-growth entrepreneurs greater access to the $902 billion private placement market, completely changing the landscape for fundraising," says Chris Tyrrell chairman of CFIRA and CEO of OfferBoard. "But until the SEC provides more detailed guidance regarding the safe harbors for general solicitation issuers should proceed with caution. Issuers must hold themselves to the strictest best practice standards and rigorously monitor their compliance with the law."
"The distinction between today's Title II effective versus proposed rules is important for issuers and investors to understand," says Kim Wales, founding board member of CFIRA and CEO and founder of Wales Capital.
The initial implementation of Title II rules – a lift on the general solicitation ban, and an amendment of the SEC Form D to facilitate registration of the new 506(c) offerings – will open up general solicitation. Additional proposed rules for pre-filing and informational adjustments to Form D and adoption of the Dodd-Frank "felons and bad actors" provision also completed comment period today, which has caused confusion in the marketplace.
In an effort to help issuers and investors, CFIRA has created a set of standards and best practices for the industry and urges their adoption as a means of approaching Title II funding activities.
"We created these guidelines with experts, broker-dealers, attorneys, and cyber security experts," added Scott Purcell, chair of CFIRA's Best Practices Industry Oversight Committee. "You must use guiding principles like industry best practices and keep defining excellence and quality at every step."
For more information on CFIRA, or to download the Crowdfunding Best Practices, visit www.cfira.org.
About CFIRA
The Crowdfund Intermediary Regulatory Association, or CFIRA, was established following the signing of the Jumpstart Our Business Startups (JOBS) Act. CFIRA is an organization formed by the crowdfunding industry's leading platforms and experts. The group will work with the Securities & Exchange Commission (SEC), the Financial Industry Regulatory Authority (FINRA), and other affected governmental and quasi-governmental entities to establish industry standards and best practices, and potentially to provide industry oversight. CFIRA.
Contact
USPDG
Jessica Randazza
205.994.5636

Contact