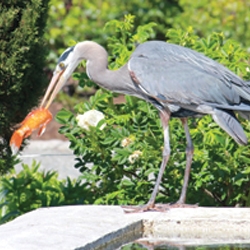 Irvine, CA, September 25, 2013 --(
PR.com
)-- The Pond Defender™, an entirely unique product, finally offers an effective and inexpensive way to protect expensive fish in ponds and water features. The ingenuous device prevents koi and other prized fish from being preyed upon by patient and highly skilled winged predators—like herons and cranes.
Easy to set up and use, the
Pond Defender™
affords fish a safe hiding place out of reach of stalking predators. The 12 interlocking plastic discs float just below the surface of a pond or water garden. The aesthetic geometric shape effectively blocks out long-beaked herons and cranes. The discs can be arranged to fit practically any shape pond or water garden, allowing underwater plants to grow through its geometric openings. For optimum protection, two rows of Pond Defender™ discs can be used to prevent long-beaked birds from reaching down and injuring fish. Ruggedly designed and formed from a UV-protected plastic (polypropylene), the discs are easily removed for cleaning.
Each package of Pond Defender™ features twelve discs that can be easily snapped together to create a ring around the edge of the pond or water garden. The geometry leaves the center open, while allowing fish to quickly seek cover and concealment. The black discs create a virtually invisible barrier between predator birds and fish. Pond owners can enjoy watching their fish without the eyesore of netting or other visually obtrusive device.
Bird-B-Gone is the world's largest manufacturer and distributor of
bird control products
, providing effective and humane solutions to a bird-free environment.