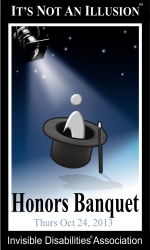 Lone Tree, CO, September 25, 2013 --(
PR.com
)-- The Invisible Disabilities® Association (IDA) will present honor awards to the following Colorado recipients. Dave Liniger, Re/Max co-founder will receive the Corporate Honors Award for creating a corporate culture of giving back to the community. Shery McDonald-Galbreath, SaddleUp! Foundation founder will receive the Volunteer Honors Award for her lifelong passionate volunteerism with multiple charities serving people living daily with illness and disability. John Kelley, will receive the Research Honors Award for his leadership as Chair and CEO of CereScan which provides cutting edge research in brain diagnostics. Paul Myhill, Founder of TrafficJam will receive the Founders Honors Award for his passion to help those in need by making a difference in their lives and their organizations and therefore multiplying their impact and reach. Five additional deserving individuals and organizations will receive honor awards as well.
Entertainment will be provided by internationally known, Colorado based illusionists, David and Teesha Laflin. Award winning, local news anchor, Ed Greene of CBS News 4 will be the Master of Ceremonies. Jack Fitzgibbons and Adrienne Ruston Fitzgibbons are this year's Honorary Banquet Chairs. Jack and Adrienne encourage everyone to join them at this amazing event.
"There is a tremendous need to raise awareness about diseases and chronic conditions that have significant impacts on people's lives, but are not physically apparent," said Connell. "Even people close to you may not understand what you are going through if you have a debilitating condition, because on the outside, you look the same."
Wayne continues "The Invisible Disabilities® Association's mission revolves around care. We care by listening, believing, validating, encouraging, educating and connecting people touched by illness, pain and disability. We show we care by telling the world that people matter even in all of their illness and pain, even when they can barely get out of bed, even when they can't speak for themselves and even when they must depend on others for their most basic needs."
The annual awards banquet is an opportunity to raise awareness and funds, and honor individuals and organizations making positive contributions to understanding and treating invisible disabilities.
2013 Honors Award recipients:
Corporate - Dave Liniger, Chairman and Co-founder – RE/MAX – www.remax.com
Founders - Paul Myhill, Founder – TrafficJam – www.trafficjam.org
Healthcare - Marlo Thomas, Award Winning Actress and Author, National Outreach Director – St Jude Children's Research Hospital – www.stjude.org
Impact - Kimberly McCleary, President and CEO -CFIDS Association of America – www.cfids.org
Inspiration – Kevin Sorbo – Actor, Producer, Director and Author of True Strength – www.kevinsorbo.net
Invisible Hero – Jennifer Brusstar, President and CEO – Tug McGraw Foundation – www.tugmcgraw.org
Perseverance - Laura Hillenbrand, New York Times Bestselling Author of Seabiscuit and Unbroken – www.laurahillenbrandbooks.com
Research - John Kelley, Chair and CEO – CereScan – www.cerescan.com
Volunteer - Shery McDonald-Galbreath, Founder and President – SaddleUp! Foundation – www.saddleupfoundation.com
Banquet details:
Date: Thursday October 24, 2013
Place: Marriott Denver South 10345 Park Meadows Drive Lone Tree, CO
Time: 6:00 Reception & Silent Auction - 7:15 Dinner & Program
Tickets $60 Young Professional (21-39yrs). $75 Guest. $150 Patron.
Corporate sponsorships available.
Live and silent auction items needed.
RSVP at
www.itsnotanillusion.com
or
www.InvisibleDisabilities.org