Denver Regional Home Staging Chapter Charity Event to Benefit Africa Hope Community
The Denver Chapter of the International Association of Home Staging Professionals will be Staging a home of an African refugee family as part of their Worldwide Staging Service Week Project. Members will be helping furnish the home for a family of 6 and provide their time, creativity and resources as part of their charitable service project for 2013.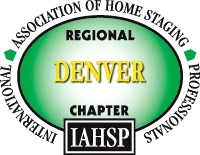 Denver, CO, September 27, 2013 --(
PR.com
)-- Accredited Staging Professionals® Select Africa Hope Community as Beneficiary of World Wide Staging Service Week®
The International Association of Home Staging Professionals® (IAHSP®) has selected The Africa Hope Community as their beneficiary for their World Wide Staging Service Week®, September 28, 2013. Members of the Denver IAHSP® Chapter are Accredited Staging Professional® and Accredited Staging Professional Master® Stagers serving the greater Denver region to prepare occupied and vacant houses for sale.
The IAHSP® World Wide Staging Service Week® (WWSSW®), began in the year 2000 as a way for its members, Accredited Staging Professionals®, (ASPs®) to dedicate their time, talent, energy and creativity to work with organizations in need within the communities where they live and work. During WWSSW, the members of the Denver IAHSP® Regional Chapter (DIRC) will dedicate themselves the Africa Home Community and assist a family of 6 with furnishing and housing needs.
The Africa Home Community organization helps support and assimilate refugee families from Africa into communities throughout the United States. In the Denver region, approximately 100,000 refugees have left their homeland and are making Colorado their home. They must learn the language, get employment within 6 months of moving, and get their children enrolled in schools. Imagine going from a small African village to a major metro city and having to shop in a grocery store for the first time. The efforts of the WWSSW Project for the Denver IAHSP Chapter will be to help furnish a home for a family of 6 and provide some of the creature comforts Americans take for granted.
IAHSP® International is comprised of local regional chapters in the United States and Canada with over 5,000 ASP® members to date. As the leading recognized professional association and voice of the Home Staging industry, IAHSP® sets the standard for Staging and is the benchmark for excellence in the Real Estate and Home Staging Industries. On a regular basis, ASPs® volunteer their time, talents and personal resources to work for the betterment of the communities that they serve.
A record number of IAHSP® Chapters will participate across the country in this World Wide Staging Service Week® event to improve the lives of others through the magic of ASP® Home Staging. Past beneficiaries have included organizations and associations such as the Ronald McDonald House, nursing homes, schools, women's shelters and children's homes.
IAHSP Foundation, Inc. 192 Lily Lane Greenbank, Washington 98253 Barb Schwarz, The Creator of Home Staging®, President and Founder of StagedHomes.com®, said, "It is with great enthusiasm and joy that we give back to the communities that we live and work in." Schwarz pioneered the concept of Home Staging in 1972, and since 1985 has taught over 1,000,000 Real Estate Agents and Home Stagers her concepts of Home Staging. Schwarz is also the Creator and Founder of the International Association of Home Staging Professionals® Foundation, which is celebrating its' 12th year of service this year. The IAHSP® Foundation, in conjunction with local IAHSP® chapters, is accepting donations - all of which are tax deductible. For more information about the World Wide Staging Service Week® event in Denver please contact: Jennie Norris, ASPM, IAHSP - President, Denver IAHSP Chapter.
Contact
Sensational Home Staging
Jennie Norris
303-717-7918
http://www.SensationalHome.com

Contact