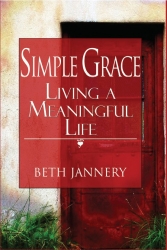 Washington, DC, September 12, 2007 --(
PR.com
)-- Simple Grace - Living a Meaningful Life by Beth Jannery is like having a cup of invigorating coffee with a life-long friend.
For author gigs, interviews, guest spots, life skills expert: 860-798-2847
www.bethjannery.com
www.myspace.com/bethjannery
www.amazon.com (search Beth Jannery and Simple Grace)
bethjannery@yahoo.com
Ms Connecticut America 2007 is no stranger to non-fiction. This is her second book and she has 15 years communications experience, a masters degree from Boston University and worked as a journalist in Washington, DC covering the Pentagon, the military and politics.
Opting for a more simple life, Jannery spends her time between DC and her country home in Connecticut where she raises two young daughters and a high-energy Golden Retriever.
Following in the footsteps of past pageant winners such as Diane Sawyer, Halle Berry, Oprah Winfrey and Vanessa Williams, Jannery is advocating change in our country - for the better in her book Simple Grace - and in her daily life. How timely, like Bill Clinton in his new book, Giving, Jannery is similar in her requests to our country is asking Americans to give - of themselves, from the heart, and in doing so to live a more purposeful and meaningful life.
Similar to The Purpose Driven Life and Don't Sweat the Small Stuff, Simple Grace is uplifting and inspiring, but with an edge and a voice to be reckoned with for the self-help, spiritual and wellness genres.
Simple Grace - Living a Meaningful Life is partly inspired by the likes of mainstream motivational gurus such as Oprah, Dr. Phil, Tony Robbins we all have enjoyed watching and learning from. But Jannery is empowering a new wave of people listening to this new voice calling for simplifying and giving back.
She does so through an organization called Women for Women International where she supports women survivors of war in Iraq and Rwanda. Her hope is to encourage every person in the United States to reach out and sponsor a woman and family through Women for Women International to help them grow a business in one year. After this year the women survivors of war support themselves, and often their villages with orphaned children.
Reading Simple Grace is simple - divided into the months of the year readers can pick it up for 15 minutes, be inspired and make positive and meaningful changes in their work, family and relationships.
Beth Jannery, in her latest book, Simple Grace - Living a Meaningful Life gives us all what we've been craving... permission to do the thing you most want to do without fear, without regret and with the support of grace.
A must must read for anyone taking the road less traveled.
Recent Press about Jannery's book:
Life In The Slower Lane
interview with author Beth Jannery about new book Simple Grace
MaryEllen Fillo
JAVA
September 4, 2007
Q: Do you find it a little funny that to "eliminate clutter" in our lives and "simplify," we need to buy more books and magazines that take up space on our shelves?
A: You're right. My philosophy is: If you bring something new into your home, give two things away.
Q: Your first book's title ["Shut the Hell Up: 101 Reasons To Appreciate Your Life, Government and Society Today," written with Jonathan Barney] is, um, a bit more hostile than this second, more soothing title.
A: This book is a lot different. The first one was sort of a twentysomething MTV-generation "Politically Incorrect" Bill Maher-kind of style. Now I'm thirtysomething and so much wiser [laughing]. Instead of telling you to appreciate your life, like the first one did, this is more about how to appreciate your life. Readers have described it as coffee talk with a friend, similar to "The Purpose-Driven Life" and "Don't Sweat the Small Stuff." It's like that Sheryl Crow song: `It's not having what you want. It's wanting what you've got.' Let's get rid of all the junk. Let's get rid of all the chaos.
Q: Easier said than done, no?
A: I admit I do have a touch of OCD. I hate clutter. I do believe that when you can eliminate the clutter, whether it's emotional or physical, it frees up the space you need to live a happy life. It's all about getting rid of the extra, in any way that's right for you.
Q: So should we all grab a bowl of granola and live in a tent?
A: I'm not advocating unplugging from the world but, for example, unless you're working, you really only need to check your e-mail once a day.
Q: Given the fact that you wrote your first book while living in Washington, D.C., and your second book while living in West Simsbury, did the tone of the two books differ greatly?
A: Yes, it's fantastic here. From my office, I can look out at the birds; I can see my kids and their little Candyland playhouse. A lot of my inspiration comes from taking long walks. A lot of stuff kind of passed me by when I was living in the city. But the nice part about West Simsbury is that I can still go into West Hartford and get oysters.
Q: When you were younger, could you ever imagine you'd write a self-help book?
A: No. I was covering politics and the Pentagon. I used to look at self-help books and think, "I'd never want to be that kind of writer." I've read all of those books. But this one is different. It's about peeling back the layers.
Q: And you're also doing modeling and beauty pageants.
A: Isn't that funny? Just know: I'm not a pageant girl. But my philosophy is that you should try everything once.
Q: Your MySpace profile shows that you have 358 "friends." It can't be simple to keep track of all those friends.
A: That whole world is bizarre, isn't it? It's not like I hear from all 358, but on any given day, I'll hear from readers who are motorcycle-heads, artists and corporate types. I think it's awesome.
###