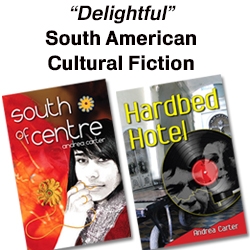 Santiago, Chile, October 04, 2013 --(
PR.com
)-- With photos from Tocopilla, a small town in Chile's Atacama desert region,
the article
goes on to say that in Carter's novels South of Centre and Hard Bed Hotel, she successfully portrays characters who scrounge out a living on the fringes of Chilean society. Her characters' peculiarities are recognised by foreigners and Chileans alike. Although both books are completely different, they share humour and marginalised characters who are connected in unconventional circumstances.
Carter's stories can be categorised as cultural fiction. Peeking behind the closed doors of unlikely places (such as cemetery tombs and less affluent neighbourhoods in northern pueblos and the city of Santiago), she exposes eccentric characters for who they really are — anything but ordinary, and follows as they lead us into rare and often magical circumstances.