National Press Conference in Honduras Highlights Growing Trend Towards Artificial Turf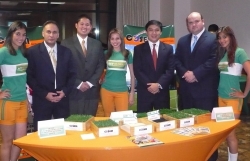 Austin, TX, September 13, 2007 --(
PR.com
)-- A press conference and reception was recently hosted by COSEM in Tegucigalpa, Honduras to review the growing role of artificial turf in soccer. Distinguished speakers included Mr. Rafael Leonardo Callejas, former President of Honduras and current President of FENAFUTH, the official football (soccer) federation of Honduras. Mr. Alfredo Hawit, Vice President of CONCACAF also discussed the trends with artificial turf in soccer.
The growing popularity of soccer combined with difficult climactic conditions and limited land in some areas, has created a shortage of good natural grass pitches in Honduras and throughout the world. The current generation of artificial turf allows for increased playing hours while providing many of the benefits of natural grass such as player safety, comfort and game conditions.
Manufacturers that have proven through independent lab and field testing that its synthetic turf systems perform similar to natural grass are eligible to become a licensee of the FIFA Quality Concept for Football Turf. One such company that has achieved this is ACT Global Sports.
ACT Global Sports was featured and received a warm reception at the press conference as its Xtreme Turf systems were launched into the Honduran sports market. A presentation was given by Mr. John Baize, Director of ACT Global Sports and Mr. Hector Brenes of Costa Rica, ACT Global Regional Manager.
Mr. Baize mentions, "The passion of soccer throughout Honduras and Latin America combined with limited sports facilities make artificial turf an excellent alternative. We understand the economies of the local market and have developed a special program with COSEM to provide clients with the best Xtreme Turf system that fits within their budget. We are excited with our exclusive partnership with Mr. Jorge Herrera and Mr. Oscar Lainez of COSEM to support soccer development in Honduras."
For additional information concerning ACT Global Sports or its Xtreme Turf systems, please visit
www.ACTGlobalSports.com
or email info@ACTGlobalSports.com.
###
Contact
ACT Global Sports
John Baize
+1.512.733.5300
www.actglobalsports.com

Contact