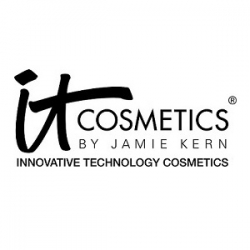 New York, NY, October 18, 2013 --(
PR.com
)-- IT Cosmetics® Products Win across three Categories, Including the Coveted "Best Foundation" Award.
IT Cosmetics ® (Innovative Technology Cosmetics), a leader in the prestige color cosmetics market, has been recognized with three Awards in the 2013 QVC Customer Choice Beauty Awards. Each year, QVC customers spanning across 99 million households in the US weigh in on their favorite brands, products and innovations in beauty via the coveted Customer Choice Awards. IT Cosmetics® was nominated by customers in ten categories across the Eyes, Lip and Face categories, and declared the winner in three of the most coveted, including Best Concealer for Bye Bye Under Eye® Anti-Aging Concealer, Best Brow Product with Brow Power® Universal Eyebrow Pencil and the most coveted award of all; Best Foundation for Celebration Foundation®.
"There are so many incredible brands and products nominated this year and we feel truly blessed," says Jamie Kern Lima, Co-Founder and CEO of IT Cosmetics®. "I spend most of my days in the labs working with plastic surgeons to create products that solve beauty issues in a new, and more innovative and effective way, and nothing is more rewarding than to hear how these products are resonating with real women and have truly changed women's lives. This is why I live and breathe, this is everything!"
IT Cosmetics® Celebration Foundation® wins "Best Foundation" in the Foundation category! This full coverage, anti-aging, super hydrating powder foundation truly gives you flawless skin in 30 seconds. The formula is rich in peptides, hydrolyzed collagen, and anti-aging technology, and free from ingredients in typical powders that can make your skin look older like talc. This product has resonated with women across the US who want skin-problems solved and flawless complexion perfection in one simple step!
Brow Power® Universal Brow Pencil wins "Best Brow"! This is the #1 selling product in the IT Cosmetics® line! Developed with leading plastic Brow Power® is a universal, transforming, long-wear eyebrow pencil infused with cutting-edge brow-enhancing ingredients. It's designed to adhere to skin, cover gray and look like real hair. This product is also truly brows with benefits! For every Brow Power® pencil sold, IT Cosmetics® donates one to the Look Good, Feel Better® foundation, to help women face the effects of cancer with more confidence. To date, IT Cosmetics® has donated over $3 million in Brow Power® pencils to this program.
Bye Bye Under Eye® Anti-Aging Concealer wins "Best Concealer"! This cult-favorite full coverage, anti-aging powerhouse concealer covers literally anything and everything, but never creases. It's often the reason women hear about IT Cosmetics® for the first time. "As a small indie brand in the early days we truly grew organically from real women trying this concealer, often posting their own before and after photos online, spreading the word loudly and passionately how this concealer has changed their lives. We continue to hear daily from women sharing their stories about Bye Bye Under Eye," says Kern Lima.
About IT Cosmetics®
Developed with leading plastic surgeons, IT Cosmetics® creates clinically-proven, innovative problem-solving color cosmetics and skin care products that harness cutting edge, anti-aging technologies and high performance skin-loving ingredients to provide you with serious beauty solutions that help you look and feel your most beautiful! IT'S truly your beauty, but better™!
About QVC
QVC, Inc., a wholly owned subsidiary of Liberty Interactive Corporation (NASDAQ:LINTA), is the world's leading video and ecommerce retailer. QVC is committed to providing its customers with thousands of the most innovative and contemporary beauty, fashion, and jewelry and home products. Its programming is distributed to approximately 250 million homes worldwide through operations in the U.S., Japan, Germany, United Kingdom, Italy and a joint venture in China. West Chester, Pa.-based QVC has shipped more than a billion packages in its 26-year history and the company's website, QVC.com, is ranked among the top general merchant Internet sites. QVC, Q, and the Q Ribbon Logo are registered service marks of ER Marks, Inc.